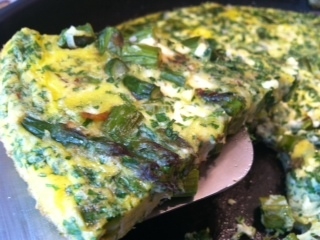 There are few things that are as satisfying in the morning as well-prepared eggs. Need a waistline-friendly brunch item? Vegetarian omelet. Want a decadent splurge on a special occasion? Eggs Benedict. Can't decide whether that new guy you're dating is a good fit for the future? How does he take his eggs? These days, they all seem scrambled.
Do you have an egg-related breakfast memory? I do. A long time ago in a galaxy far, far away (okay, it was the Upper East Side but stay with me), I was a pigtail-sporting, Punky Brewster lookalike with a penchant for French toast. This less-healthy habit was supported -- nay, indulged -- by my adoring father at our Sunday morning diner breakfasts. (Have you noticed these dad-daughter meals happening at your local A.M. spot? You have to wake up pretty early to witness these adorable pairings but once you start looking, you see them on weekends all over town.) Anyway, back to my story:
I had breakfast with my dad every Sunday for 18 years. Neither rain, nor sleet, nor gloom of weekend homework that I had put off until the last minute kept us from our meal at Jackson Hole, a place where I was the Mayor way before Foursquare existed. My father would have an omelet and basically give his order as, "Put in whatever you want." Our meal, in general, took a similar tone; so much conversation thrown onto the table, mixed up and reorganized by the time we got the check. We talked and laughed and ate and when I made the switch from syrup-doused French toast to vegetarian omelet, I felt oh-so grown up. Our eggs were always the same but slightly different, as is the case with so many family-related events. These meals are the happiest flashbacks of my childhood and, like an omelet, have now been well-folded (and sometimes slightly reinvented) on my giant memory plate.
Of course, if I'm cooking breakfast for others now, I'm not wasting my time with flipping and folding individual omelets. I'll make the much easier, much more group-friendly frittata, or baked eggs. These dishes are as simple or as complicated as you'd like based on your ingredients, but basically take you to the same place: Cook your vegetables, put everything together in a cast-iron or non-stick pan, place in the oven and watch your meal plump to perfection.
The recipe below contains asparagus (both seasonal and now on the "clean" vegetables list!), leeks, goat's cheese and fresh chives and parsley. To lower the cholesterol, I scaled back on the number of eggs that are often used and added goat's cheese because it is naturally lighter and lower in calories than many others (it's also delicious).
Asparagus is also an excellent source of vitamins A, B and C, as well as fiber and folic acid. They also contain anti-inflammatory properties and have been shown to help detoxify the G.I. system. Do you prefer different greens with your eggs? Use them!
Cook your heavier items (like fibrous vegetables) first, add your eggs and let the bottom just set. Move your pan to the oven and cook until the top is ever so slightly firm. Let cool, cut into wedges and serve family style.
Give the gift of health on Sunday morning -- it'll save you some room for the barbeque in the afternoon!
Happy Father's Day, Dad. Love, Mallory.
---
Asparagus and Goat Cheese Frittata
I thought I came up with recipe alone but I was actually inspired by the wonderful Melissa Clark of The New York Times. I altered her recipe slightly and you should feel free to do the same. Want shallots instead of leeks? Thyme instead of chives? Make changes as you see fit.
Frittatas also refrigerate nicely and make an excellent second-day lunch or afternoon snack. Serve warm or at room temperature.

INGREDIENTS
6 Eggs
1 lbs asparagus, ends trimmed, cut into ½ inch pieces
1 large leek, thinly sliced
3 oz goat's cheese, crumbled
1 1/2 Tbsp fresh chives, finely chopped
1 1/2 Tbsp fresh basil, finely chopped
2 Tbsp extra virgin olive oil
salt and pepper to taste
coarse sea salt and additional herbs (for sprinkling on top)

DIRECTIONS
Preheat your oven to 350 degrees. In a well-seasoned cast iron or non-stick pan, heat the olive oil, add leeks and sauté, about 4 minutes. Add the asparagus and cook until just tender, another 5 minutes. Wisk eggs, goat's cheese, herbs, salt and pepper in a medium bowl. Lower the heat on your vegetables and add your egg mixture. Cook until the bottom is just set. Move your pan to the center of your oven and cook until the top sets, about 8 minutes (this can vary greatly depending on the temperature of your oven and the degree of browning you like on your eggs). Remove from oven and let cool. Garnish with additional herbs and coarse sea salt. Cut into wedges and serve warm or room temperature.

Mallory Stuchin, a native Manhattanite, is a freelance food and health writer. She studied Ashtanga Yoga in Mysore, India and has taught classes at PURE Yoga and New York University. Mallory is also a Natural Foods Chef and has worked for Mario Batali. She has previously been featured in The New York Observer, Glamour and Maxim, as well as College Humor.com and other publications in New York and Los Angeles.