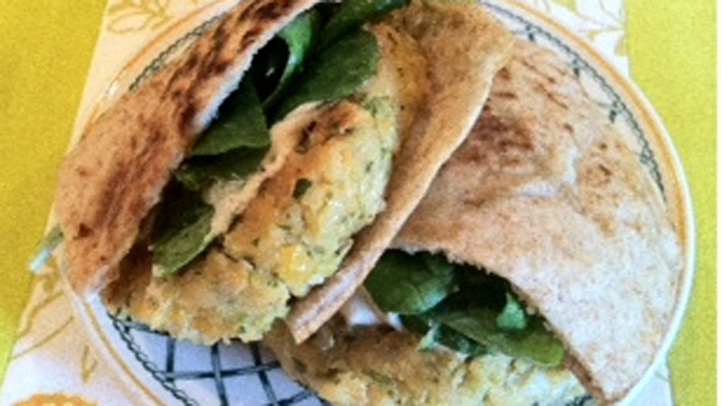 Hello, I'm Mallory, and I'm addicted to hummus.

If you've been reading this column regularly -- and if you haven't please do so, I'll wait -- you know that I'm not shy about sharing my love of leeks, my cravings for zucchini-laced pasta, my dreams of vegetable frittatas of yore. The movie of my life will most likely be titled "Passion of the Kale."

But when it comes to my favorite -- the staple of my diet that quite literally structures my days -- I need to address my situation with hummus.

Made from chickpeas, tahini, garlic, olive oil, lemon and salt (and just about anything else you'd like to add), hummus is really having a moment. This dip that was once found only in the Middle East and parts of the Mediterranean, is now in every restaurant and supermarket. If you've never made it, try throwing the above ingredients into a food processor and see how easy it is.

I can almost promise you that I've already eaten hummus at some point today. Many of my meals have become so chickpea-centric that my fascination is bordering on full-blown addiction. At its best, hummus is uncomplicated but soulful, leaving you wondering what extra spices and herbs were added to form such a delightful mix. I have a tendency to tell everyone about how much I love this food, which is fine for my professional life but has been surprisingly awkward on dates.

I assume after reading this ode to America's Next Top Condiment (it's going to be a thing, just go with it!), you would expect to find a recipe for my favorite hummus of all time. Well, you won't. As I said earlier, if you want to make your own hummus, give it a try. It's simple and foolproof.

Or you could opt for something that incorporates the same flavors as hummus but make a more substantial meal, like chickpea burgers. Just in time for 4th of July parties, these burgers are a nice alternative to the frozen and sad veggie burgers that are so often tossed to the meat-free eaters. The spicy tahini sauce and bittersweet baby arugula salad help to punch up the mild flavor of the chickpeas. The whole experience was like a deconstructed hummus party.

Nutritionally speaking, chickpeas are a great source of fiber, folic acid and iron. They're also low in fat and very high in protein. Chickpeas have been shown to help significantly curb appetites as well as aid in digestive disorders.

Give these burgers a try this holiday weekend. You'll be signing up for the Chickpea Love Club in no time.
---
Chickpea Burgers with Spicy Tahini Sauce and Baby Arugula Salad
If using canned beans, always opt for ones without added salt. I used a whole-wheat pita as the burger but feel free to use anything you like. This recipe was inspired by reading yumsugar.com.
Ingredients
For the Burgers:
1 19-ounce can chickpeas, rinsed and drained, finely pulsed in a food processor
3 cloves garlic, minced
3 scallions, white and light green parts only, finely chopped
1 ½ TBSP parsley, minced
¼ cup panko breadcrumbs
1/8 tsp cayenne pepper
1/8 tsp cumin
1 tsp tahini
3 TBSP extra virgin olive oil, divided
Juice of ½ a lemon
Salt and pepper to taste
1 egg, lightly beaten with water
For the Spicy Tahini Yogurt Sauce:
1/2 Cup Zero Percent Greek Yogurt
2 TBSP Tahini
2 TBSP extra virgin olive oil
Juice of 1 lemon
1/8 tsp cayenne pepper
1 tsp salt

For the Baby Arugula Salad:
1 Large bunch Baby Arugula, washed and spun dry
¼ cup extra virgin olive oil
3 TBSP rice vinegar (or other mild vinegar)
1/8 tsp honey
Salt and pepper to taste

Directions
Over medium heat, add 1 TBSP of olive oil to a small pan and cook the garlic and scallions until fragrant and bright green. Remove and let cool. Process chickpeas, tahini and lemon juice until combined but not completely smooth. Add all ingredients to a large bowl and mix well using your hands. Roll a small handful into a ball and lightly flatten into a disc, making 4 patties. Heat remaining oil in a large pan and cook patties for 3-4 minutes on each side or until golden. Allow to cool on a paper towel or drying rack.

Meanwhile, in a food processor or blender combine yogurt, tahini, olive oil, lemon juice, cayenne pepper and salt. Mix until smooth and reserve.

For the dressing, combine olive oil, rice vinegar, honey, salt and pepper in a small bowl. Wisk until emulsified and drizzle over green.

Assemble burgers by spreading spicy tahini yogurt on both sides of pita before adding salad and burgers.

Mallory Stuchin, a native Manhattanite, is a freelance food and health writer. She studied Ashtanga Yoga in Mysore, India and has taught classes at PURE Yoga and New York University. She is also a Natural Foods Chef and has worked for Mario Batali. Her writing has previously been featured in The New York Observer, Glamour and Maxim, as well as other publications in New York and Los Angeles. You can follow her on Twitter @malstuch.