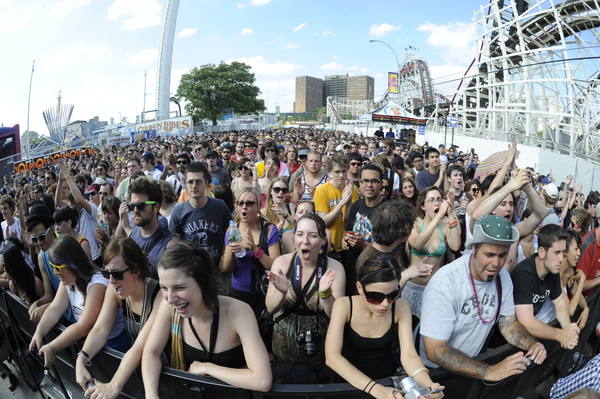 The Siren Music Festival has been drawing a diverse crowd of music lovers, neighborhood amusement-park goers and hipsters just off the train from Williamsburg hungry for the next 'real' thing in Coney Island for ten years now.

On Wednesday, The Village Voice, the event's main sponsor and organizer, announced a partial lineup for this year's July 17th festival. It being an anniversary year, the Voice has decided to compromise their "no bands ever play twice" policy by inviting some of their favorites from years past back to Coney Island.

For some, the concert is just an excuse to see the World's Largest Rat or The Man with No Head (Still Alive!), play "Shoot the Freak" (human target + paintgun),ride the Wonder Wheel or relax in Beer Island.

But the diverse line-up of bands, all of them free, are enough to satisfy even the most fanatic of music fans. Over the years, Jon Spencer's Blues Explosion, Modest Mouse, the New York Dolls, Guided By Voices, Broken Social Scene and Spank Rock have headlined, while hundreds of smaller indie bands from around the world (from Quasi to Japandroids) have made themselves known amidst the gritty chaos.

So far, none of those are scheduled to come back, but more will pile on as we get nearer to July. So far, here's who is confirmed:

Matt & Kim (Class of Siren, 2007)
Ted Leo (Class of Siren, 2003)
Surfer Blood (SXSW VVM party, 2010)
Pains of Being Pure at Heart (SXSW VVM party, 2010)
Harlem (Pre-frosh 2010)

Each of the festival's three stages are just a stone's throw from the beach, but this stretch of the boardwalk -- lined with deep fryers and cave-like bars -- prevents anything like fresh sea air from reaching the venue.

Fields full of trampled grass, muddy wannabe hippies and crowded beer tents are fine, but for a summer music festival, there is nothing quite like the Siren, just as there is no place quite like Coney Island.
Copyright FREEL - NBC Local Media