Last night Target celebrated the launch of its latest retail initiative -- The Shops At Target -- with a bash in the lobby of Chelsea's IAC building. The collections and shop-in-shop experiences were created in collaboration with various boutiques from around the country, including The Candy Store in San Francisco, beauty chain Cos Bar, Boston's Polka Dog Bakery, Privet House in Connecticut, and The Webster in Miami Beach -- all of which will officially debut in Target stores and on Target.com on Sunday, May 6.
Throughout the launch, event items from the collaborations hung from the ceiling in installations including jars of candy, plates and makeup. In addition to performances by Wilson Phillips and Theophilus London, the party also drew the likes of actress January Jones and model Hilary Rhoda.
We spotted actress Emma Roberts wearing a cardigan from the collection that will retail for $32.99. "I like a mix," the actress told us. "I love to shop at places like Target and H&M and mix it in with Chanel and Isabel Marant."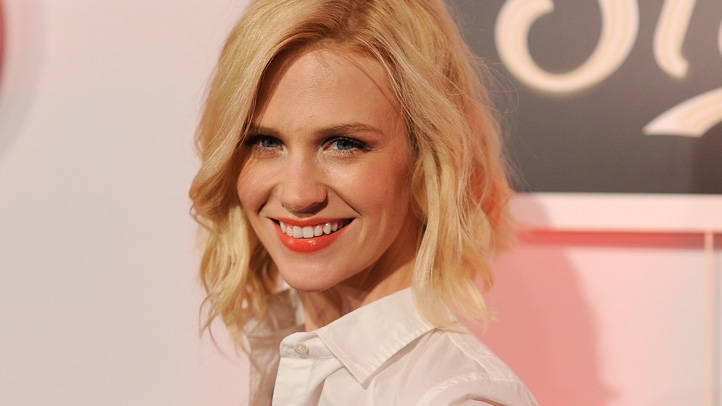 Roberts who is town for the Met Ball next Monday, played coy about what she will be wearing to the big event, but admitted, "I'm a pretty casual jeans and T-shirt kind of girl, so it's a fun night to play dress up." Last year, she wore a Grecian-inspired Michael Kors gown and in 2010 she wore a short black Marni cocktail frock if that offers any clues.
Laure Heriard Dubreuil, the co-owner and CEO of The Webster, was excited about the fashion items she'd contributed to the collaboration. "I am just so excited to see it in stores," she told us. Dubreuil says that she has been wearing the collection she created with Target quite a bit lately, and was wearing the sleeveless shift dress featuring a classic Miami deco print for the event (which will retail for $39.99).
It will be interesting to see how The Shops At Target offerings, which range from a strapless maxi dress for $44.99 to striped dog collars for $5.99, will fare in stores. Target really pioneered the concept of designer capsule collections with its Go International collaboration series, which feature wallet-friendly collaborations with the likes of Jason Wu and Proenza Schouler. That said, as the popularity of these collaborations has risen (spurring similar concepts at H&M and Macy's), their novelty factor with consumers has worn off, leading to rather mixed sales results. The Shops at Target is an effort by the large chain to stay one step ahead of the pack.
There's more coming down the line, too: In two weeks, the retailer will unveil the boutiques that are participating in the second installment of The Shops At Target.