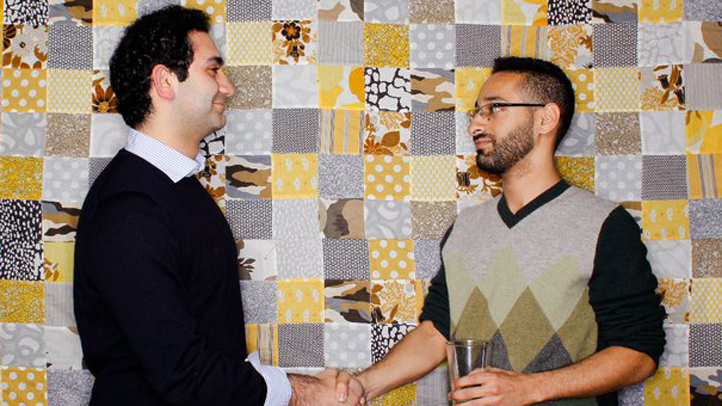 The Record is a new feature on Nonstop Sound wherein we talk with people who work behind the scene to make New York City such an exciting place to be a music fan. From promoters to writers to club owners to record store owners, we'll be chatting with the people who devote their time to making sure our lives have a great soundtrack. For our inaugural edition, we chatted with Rami Haykal and Jake Rosenthal, the brains behind the fast-rising, adventurous concert promotions company PopGun Presents. PopGun has coordinated shows for CANT, Beach Fossils, Das Racist, Deerhunter and many other intriguing young artists
Nonstop Sound: So how's your year been?
Rami Haykal: "Our year's been crazy and hectic, but generally positive. We went from presenting six shows a month to about 20."
NS: So tell me how PopGun got started. What made you decide to venture into the music industry anyway?
RH: "Jake was my roommate freshman year in college when I moved to the U.S. at 17 from Italy not knowing anyone in NYC. At the time, I was looking for something to take up my time after spending a scarring summer visiting family in Lebanon in 2006 during the brief Israeli-Lebanese clashes. I was stranded there for over two weeks with my sister, mom and grandmother. The airport was shut down, there was naval blockade outside our window and I ended up leaving the country via-taxi; started PopGun when I got back to New York."
Jake Rosenthal: "We were going to a lot of shows and parties towards the end of school, and some of our friends were starting to take their own music more seriously. It seemed like there was a community growing that we wanted to support somehow. What we're doing now sort of grew out of the energy of those nights."
NS: What were the first few shows you booked like? Any fun early memories?
RH: "Our first show we booked was at the Charleston and our second was in Chicago. We used to run a party with our good friend Will Griggs from Cantora Records, the dudes who put out MGMT's first EP, at the Delancey called Loose Nukes... We had Das Racist for one of their first shows, Ninjasonik, Team Robespierre, Woodhands, 88 Keys and a bunch of other thrashy groups play."
NS: What's been the hardest part about keeping PopGun open and running?
JR: "There are a lot of hats to wear doing what we're doing right now – the booking, promotion, design, administration, managing our team – and we're trying to grow things too, so there are new challenges all the time. The most consistent though: we work with artists on ground level, sometimes before there is much popular support here. So it's not just a visibility thing. We have to convey our excitement about the artists we're working with, even why we're working with them. We can't put a show on sale and forget about it – we nurture each show for months. A lot of the time we'll go out on the streets."
RH: "It's hard to earn trust. Good shows don't fall in your lap at the beginning. Constant hard work and crazy sleep schedules."
NS: What is it you're trying to bring to the New York's music community that you think it needs? What sets you apart?
RH: "We've always made an effort to maintain musical integrity and curate our shows with support/opening acts which made sense for the night. Shows were scarce at the beginning, which encouraged us to look out for groups across the world who caught our attention and book their first NYC plays. That is something we have continued to do."
JR: "We don't wait for people to sell us artists. We spend a lot of our time hunting down new music that we can get behind. Sometimes it leads back to a manager or an agent, or sometimes an anonymous Gmail account. But if we really believe in an artist, we'll take some pretty big risks to bring them to our city. That's not a new concept, but it's more common to fly in DJs or producers than bands. Because you're talking about four or five or six people, and the expenses are rough. We do both, and we'll work pretty hard for a pretty long time for free to see those kinds of shows happen."
NS: Take the pulse of the above-mentioned New York music scene for a moment. What encouraged you this year and made you want to keep going? And what made you slap your forehead and wonder why you bother?
RH: "For me it's the excitement at the shows, the bands we meet and the joy of seeing them move on to play bigger stages. Cancellations are the worst. All your work can easily disappear in one incident. That's always a bummer."
JR: "We've always gotten a lot of support from the community of people who put on events here in NYC, which I guess could have gone the other way entirely. From the DIY organizers to the bigger rooms. That always surprised me – a lot of those people are good friends now, and it's easier to work hard alongside them. I don't want to talk about frustrations. We don't really punch out – we book the shows during the day, and then we run the shows at night. So there are ups and downs."
NS: There's a passage on PopGun's website that caught our eye. "One of the ironies of New York City is how close we all live to these various communities and yet how little time we find to engage." Why do you think this is? And what exactly can we do to change that?
JR: "We didn't mean to be philosophical really. It's simple: people are busy, and the demands of living in New York are high. It's tiring. I think it can create a 'head down' routine where each person just needs to solve his or her individual problems from day to day, and only have the energy left to retreat back into comfort zones. I'm guilty of this – I should be exploring more. I hope our shows are an excuse for people to do that."
NS: It's almost the end of the year. I'm legally required to ask for your favorite albums.
RH: "WU LYF – Go Tell Fire to the Mountain, Future Islands – On the Water, Unknown Mortal Orchestra -- Unknown Mortal Orchestra, Bass Drum of Death – GB City, Metronomy – The English Riviera."
NS: Also, any favorite shows?
RH: "The sold out Mount Kimbie show at Le Poisson Rouge with Jamie Woon and Com Truise was a thrill. Was one of the bigger shows we threw this year."
JR: Outside of what we are doing. Nicolas Jaar in February at Le Bain was the most exciting show of the year for me.
NS: Thanks for your time. Any thing else on your mind you'd like to say?
RH: Lots of stuff coming up, keep an eye on our calendar. We are very excited about a bunch of our shows in 2012.