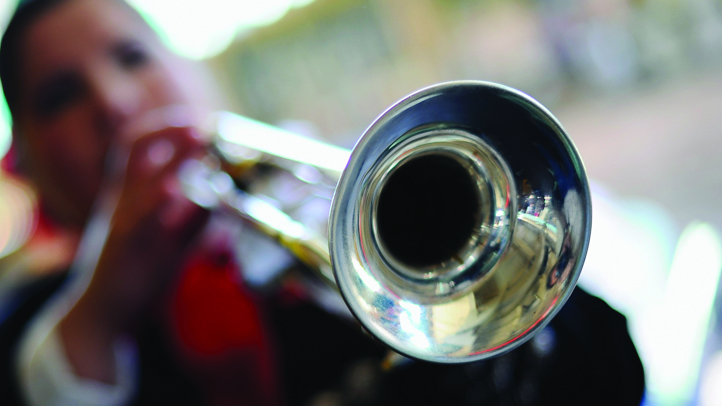 The Blue Note Jazz Festival encroaches like a rain cloud, and it's time to get soaked. We're helping you prepare. We already offered you a few of our picks for the monthlong festival -- which features a cadre of artists in all permutations of jazz -- but it just wasn't enough.
Bill Frisell, June 1 - June 7 Ginger Baker, Brian Eno, Gus Van Sant, Van Dyke Parks -- that's a good 4 percent of Frisell's resume highlights. The legendary guitarist plays, like, EVERY night of the first week -- it would suit you well to catch at least ONE set. How does this guy find so much time? In 2011 already, he's released two albums of his own and collaborated on two others, with Buddy Miller and Abigail Washburn, respectively. Is there a sound he can't strum through? Apparently not -- the first five nights of the fest, the multifaceted guitarist is playing The Blue Note with legendary alto player Lee Konitz (which, alone is a force to reckon with). And on Sunday June 6 he is playing with Brazilian multi-percussionist Vinicius Canuaria and the following day with the McCoy Tyner Trio -- both at Highline Ballroom.
Aloe Blacc, Highline Ballroom 9 p.m. June 3 I will just leave this here:
OK! See you there!
Eric Burdon and the Animals - B.B. King Blues Club 8 p.m. June 8 Burdon just won't stop. Sure, we all know the original herd of Animals scattered decades ago, and the kerfuffle over the band's name seems pointless. But frankly, he's a rock legend. Having penned rock classics ("House of the Rising Sun") and fronted one of the greatest funk bands to ever be fronted by a white dude (WAR) he's a music legend, and it's always good to tick one off the bucketlist.
Idle Warship (Talib Kweli and Res) - B.B. King Blues Club, 11 p.m. June 10 Pairing Kweli, one of the more influential emcees of the last ten years, with Res's distinctive R&B style, make for some of the more attractive sounds lately. If you're still unsure about this one, why don't you download the FREE ALBUM the group let loose.
THIS IS JAZZ?: Mamarazzi, Dana Leong, Kilimanjaro and The Suite Unraveling - The Mercury Lounge, 8 p.m. June 20 It's hard to call dissonant, free-romp improvs "jazz" sometimes, we understand that. And look, I don't like As Tall As Lions either, but the group's splinter improv-venture Kilimanjaro is an exciting exercise in musical liberty (despite its undoubted nonexistence sans ATAL). Pair that with some of the more roughish of contemporary jazz players -- such as the vastly talented electric-cello player Dana Leong and Bushwick's own Suite Unraveling -- and throw in the great Mercury Lounge, and you've got yourself a deal.
Spontaneous Construction with Andrew D'Angelo and Greg Saunier - The Blue Note, 12:30 a.m. June 10 Rhythm geeks – have you ever wished Deerhoof would just ditch the abnormal vocals so the band's drummer (the incredibly energetic and versatile Saunier) could really shine? Here's the sound of your dreams. Oh also Andrew D'Angelo absolutely rips on sax, rips like a pulled muscle. This pairing will undoubtedly throw down some of the most abstract and thrilling rhythms of the festival.
Roberta Flack - B.B. King Blues Club, 8 and 10:30 p.m. June 24 In yet another "are you kidding me?" moment, the Festival invites one of the most legendary singers have the last 40 years to bring down the house for not one, but two great shows in one night.
Bootsy Collins - B.B. King Blues Club, 8 p.m. June 26 Even if you only know him as the goofy, mad hatter with the star-shaped bass guitar from the Guitar Center ads, Bootsy Collins is a personality and musical presence worth planning a night around. A member of the Parliament Funkadelic and the Rock And Roll Hall of Fame, this set will, ahem, "bring the funk" in the way your high school band teacher always thought he was. But he wasn't. Because he was a high school band teacher.
Ron Carter Trio and Tom Harrell: "Jazz Meets Classical: Debussy and Ravel" – Highline Ballroom, 8 and 10:30 p.m. June 28 The concept alone of this set is enough to drag us out near the end of the festival – the only way to make jazz more laid back would be to reinterpret Claude Debussy through an improv lens. The composer made notoriously chilled-out classical compositions desperate to be interpreted through anything other than a Theremin. And Ravel? The "Bolero" rhythm alone is enough bedrock for six or ten freejazz albums.
Who are your picks? Tell us in the comments who we missed, because nobody is perfect. Except Roberta Flack – she might actually be perfect.