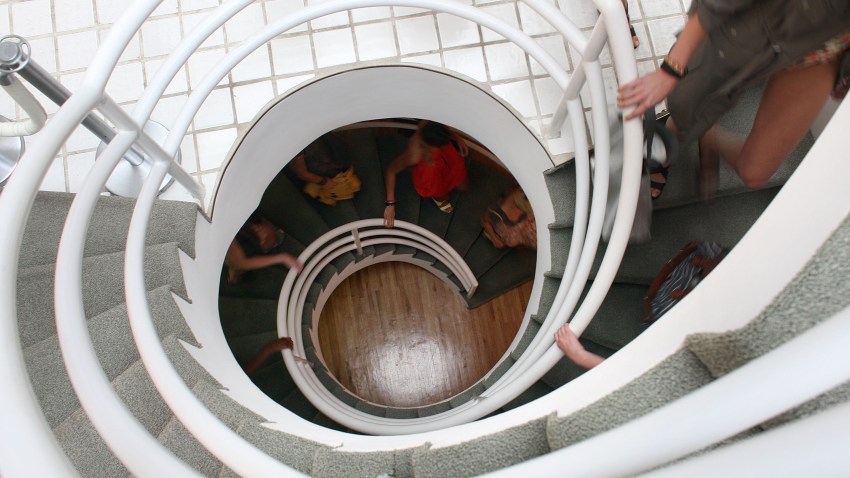 Well America, the new health commissioner of NYC, Thomas Farley, has determined another reason why you are fat: You don't take the stairs often enough. New York magazine reports that one of the commish's initiatives that has been overshadowed by his bid to ban smoking in public parks -- he's also on a campaign to get us to climb the steps a bit more.

Before you go off thinking he's just some health-nut crank, consider the evidence. "Two additional minutes of stair climbing per day (about three floors) can burn more than enough calories to eliminate the average adult's annual weight gain," offers the magazine. And a Harvard study determined that there was a 33% difference in the mortality rates between men who were active stairclimbers (55 flights per week), and those who weren't.

The methods used to encourage stair use include posting signs that read "Burn calories, not electricity" (which saw a 67% rise in usage in one Bronx building), making elevators smaller and slower (which is encouraged by the city), constructing elevators that skip floors in new buildings (Cooper Union's new building's elevator stops only every third floor), and offering LEED credits and "zoning bonuses" to developers that install more user-friendly stairs.

The goal is to make people who live or work on thee second floor, a little more reticent before waiting for the elevator. The country has worked hard to make life as devoid of activity as possible. Consider this infograph from AggData and Fast Company that shows the distance to the nearest McDonald's across the country.
"If we engineered physicality out of lives," Farley told New York, "we can engineer it back in."
Copyright FREEL - NBC Local Media