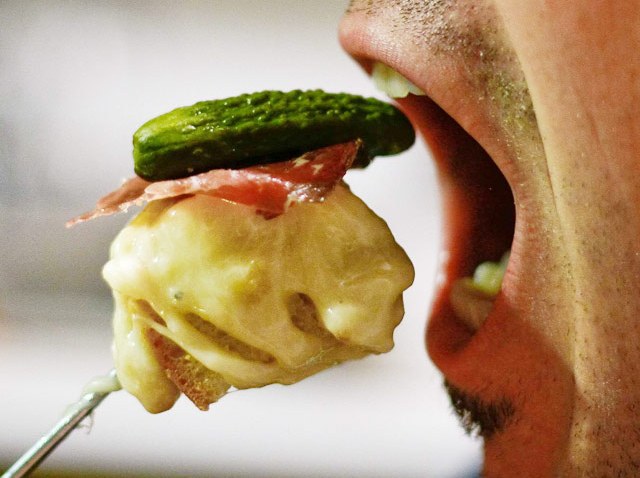 Trestle on Tenth chef-owner Ralf Kuettel didn't start out plugging his Chelsea restaurant as a depot of traditional Swiss cuisine, but a dish has arrived on the menu – as a sort of residency, being served on Sundays through the end of February – that's as Swiss as cuckoo clocks and hush accounts.
For $24, you'll get a bubbling cauldron of three fromages: Gruyère, Emmentaler and Vacherin, seasoned with goodes like nutmeg and blended to creamy, goey perfection.

But what to dip into this mix, other than a big spoon? For that, there's a traditional spread of meat (including speck and bündnerfleisch, a.k.a. the jerky of Switzerland), steamed potatoes and cornichons, plus cubes of baguette, courtesy of Sullivan Street Bakery. Wash it all down with a crisp glass of Chasselas, black tea or shots of Kirschwasser ("for the hardy," notes Kuettel).

Fondue nights run every Sunday through end of February at Trestle on Tenth, 242 Tenth Avenue; 212-645-5659. Reservations recommended; more information at trestleontenth.com.
Copyright FREEL - NBC Local Media