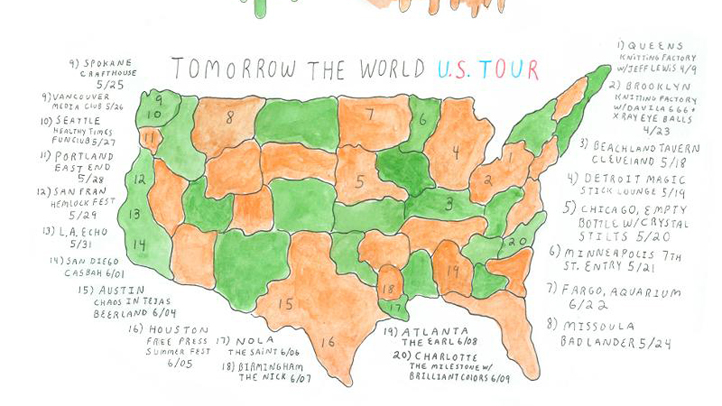 The thing we love about Jackson Height's own The Beets is the pure New York flavor of the band: Juan Wauters, Uruguayan immigrant and songwriter, meets Jose Garcia, collaborator and new friend, through a series of coincidences.
They swear that, when they started making their lo-fi garage anthems five years ago, they had no idea cool kids in Brooklyn (see: the Altered Zones scene) were employing the same cassette-recording methods The Beets were. Only The Beets did it out of limited resources, not a drive for a new sound.

This week, in conjunction with the news of a U.S. tour with Eternal Summers, the group debuted a single off their sophomore release "Stay Home."
The cut, entitled "Dead," shows the band stripping down its fuzzed-out flair for a little purer sound. With such a bleak title, the song is surprisingly upbeat.
Frontman Wauters is forward in the mix, and the whole thing comes off as a kind of shoulder shrug rather than a lament. Check it out here.

The band's live shows are a DIY production themselves, with lights, banners and plenty of improv. If making it out for one of the sets just won't happen, the tour poster, by the band's resident artist Matthew Volz, gives a glimpse into their great aesthetic.

"Stay Home" is out now on Captured Tracks.

04/08 Queens, NY Silent Barn ^
04/23 Brooklyn, NY Knitting Factory $
05/18 Cleveland, OH Beachland Tavern *
05/19 Detroit, MI Magic Stick Lounge *
05/20 Chicago, IL Empty Bottle ~ *
05/21 Minneapolis, MN 7th St Entry *
05/22 Fargo, ND Aquarium *
05/24 Missoula, MT The Badlander *
05/25 Spokane, WA Craft House *
05/26 Vancouver, BC Media Club *
05/27 Seattle, WA Healthy Times Fun Club *
05/28 Portland, OR East End *
05/29 San Francisco, CA Hemlock/Popfest *
05/31 Los Angeles, CA Echo *
06/01 San Diego, CA Casbah *
06/04 Austin, TX Chaos in Tejas (Beerland) *
06/05 Houston, TX Free Press Summer Festival *
06/06 New Orleans, LA The Saint *
06/07 Birmingham, AL The Nick *
06/08 Atlanta, GA The Earl *
06/09 Charlotte, NC The Milestone # *

* = w/ Eternal Summers
^ = w/ Jeffrey Lewis
$ = w/ Davila 666, X-Ray Eyeballs
~ = w/ Crystal Stilts
# = w/ w/ Brilliant Colors