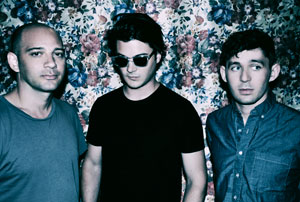 Crafty purveyors of mood and catharsis The Antlers will release their new EP, (together), on Nov. 22 via Frenchkiss Records, and will play Webster Hall on Dec. 10.
(together) is an odds-and-ends compilation that collects b-sides, remixes and alternate takes, including a solo version of "I Don't Want Love," from their current album Burst Apart. The Antlers started as a solo project for frontman Peter Silberman, but has grown into a real band over the years; (together) will mark this achievement with "Tongue Tied," the first song sung by multi-instrumentalist Darby Cicci.
This particular writer found their 2009 album Hospice to be greatly moving and powerful, and thought that the follow-up had many great moments, with "I Don't Want Love" being one of the best portraits of the intersection between despair and exhaustion in recent memory. But it never quite cohered.
Many people disagreed, though. That said, the intriguing collaborations with both the blues singer Nicole Atkins and electro-popsters Neon Indian and Bear In Heaven are welcome signs of continuing creative restlessness that's worth tuning in for.
(together)
1. Parentheses (PVT remix)


2. Tongue Tied


3. French Exit (SNRF version)


4. I Don't Want Love (Peter's version)


5. VCR (The xx cover)


6. Hounds (with Nicole Atkins)


7. Rolled Together (with Neon Indian)


8. Parentheses (with Bear In Heaven)


www.antlersmusic.com