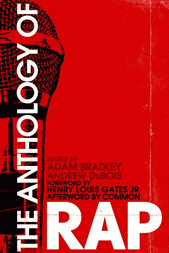 Wonder if, when people started rhyming on the sidewalks in the 1980s, anyone could have predicted that one day there'd be an academic encyclopedia of the form they were creating, out from Yale University Press, no less.
At 92Y Tribeca Wednesday night, Adam Bradley and Andrew DuBois bring together writers, musicians, poets and academics to celebrate the release of their Anthology of Rap.
For the book, Bradley (an associate literature professor at the University of Colorado, Boulder, and a frequent writer on black pop culture) and DuBois (a poetry prof at the University of Toronto's Centre for the Study of the United States who teaches a class called Rap Poetics which we want to enroll in right now) selected 300 lyrics from the last 30-odd years, from the oldest of the old-school era to the present day. You'll find Grandmaster Flash & the Furious Five's "The Message" and Eric B. & Rakim's "Microphone Fiend" next to more obscure goodies like Blackalicious's "Alphabet Aerobics" and Jean Grae's "Hater's Anthem."
They also tapped Henry Louis Gates, Jr. (with whom Bradley studied at Harvard) to write the foreword, and purveyor of the form Common to pen the afterword.
Scheduled to read at the event:
· Imani Perry (Professor at Princeton University, author of Prophets of the Hood: Politics and Poetics in Hip Hop)
· LaTasha Diggs (Poet, sound/video artist, curator)
· Immortal Technique (Rapper and activist)
· Ta-Nehisi Coates (Writer for The Atlantic, author of the memoir The Beautiful Struggle)
· Adam Mansbach (Author of the novels Angry Black White Boy and The End of the Jews)
· Touré (Correspondent for BET, author of Soul City and Contributing Editor at Rolling Stone)
· Farai Chideya (Host of the Pop and Politics specials on public radio; author of books including Don't Believe the Hype and Kiss the Sky)
· Grandmaster Caz (Legendary MC and member of the Cold Crush Brothers)
DETAILS
The Anthology of Rap, co-presented by the Poetry Society of America
Wednesday, November 17, 7PM
92YTribeca, 200 Hudson Street; 212 601 1000
Tickets are $12, available here