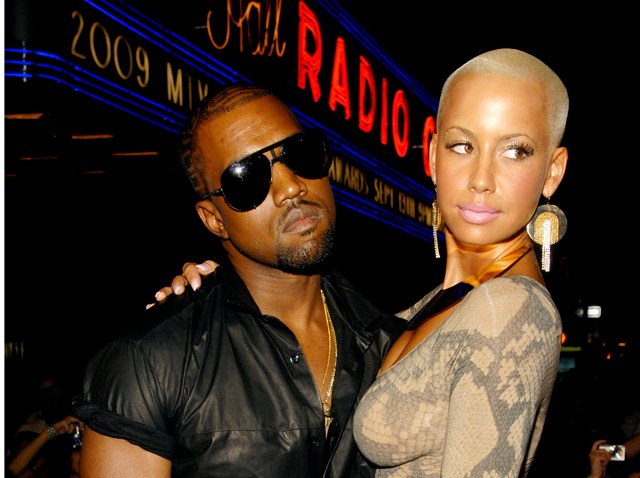 The MTV Video Music Awards is known for iconic performances (Madonna writhing on the floor in a wedding dress) and oh-no-they-didn't! moments (Diana Ross feeling up Lil' Kim). Unlike say, the Oscars or Grammys, stars don't come the VMAs to be validated by a rarefied community of industry professionals, they come to bug out. At the 2009 VMAs at Radio City Music Hall, the foolishness began on the red carpet.
Arguably the biggest moment of the night was when Kanye West bum-rushed Taylor Swift's Best Female Video award acceptance speech, snatching away the mic and declaring Beyoncé the rightful winner. About an hour earlier on the red carpet Kanyeezy dropped jaws as he sloppily groped and made out with gal pal Amber Rose. Then he stopped to chop it up with producer Swizz Beatz who knocked back some straight-from-the-bottle swigs of Hennessy. Swizz then gave the most prescient description of the night noting that the VMAs is "organized chaos. It's fans being fans and stars being stars."
Lady Gaga provided several star moments from arriving on the arm of iconic Muppet Kermit The Frog to her gory, asylum-themed performance of "Paparazzi." Pink took the show to new heights as she belted her hit "Sober" while swinging from a trapeze. Bouncing back from Yeezygate, Taylor Swift got low with fans and jammed in the 47-50th Street/Rockefeller Center subway station.
On the red carpet, singer Amerie doled out VMA survival tips like carrying a weapon and sported a spiked anklet sure to come in handy if some Hollywood waif got out of hand. Yet, regardless of the city's dodgy subways and red carpets, most artists were glad the VMAs had returned to NYC. "New York is a city full of energy and the VMAs started here," said reggae star Sean Paul. "It's an amazing thing to actually have it be back here." D.C. rapper and VMA house band frontman Wale was more forthcoming. "It's great! Less travel, less turbulence on the plane and more women!"
The show also feted Michael Jackson's memory with thoughtful, dewy-eyed words from Madonna and a tribute featuring some of the world's most successful dancers. Jackson's "This Is It" tour choreographer Travis Payne mused that Jackson would have wanted fans to have fun noting, "We've been [inundated] with the sad images long enough. It's time that we all celebrate." Janet Jackson's live re-creation of her 1995 duet with her brother "Scream," was entertaining and innovative. It was a great way to pay homage to Jackson's body-rockin' legacy and to prove that music's rowdiest night is back.