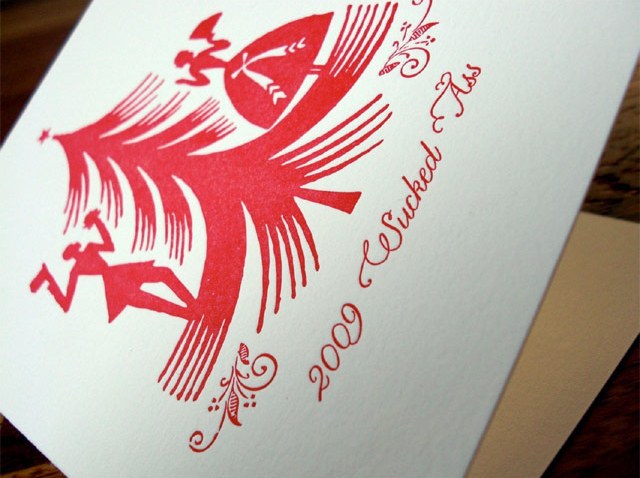 We'd largely agree with Frank Rich's assessment in the New York Times that the entire decade coming to a close pretty much bit the big one, but 2009 was particularly sucktastic. Think about it: Michael Jackson's father plugging his new venture on camera at his son's funeral. Tiger Woods revealing himself to be a total schmuck. The Snuggie.
Join the Upright Citizens Brigade Theatre in a celebration of the terribleness in the year that was at their 2009 IT SUCKED! Awards, hosted by the entirely non-sucky improv group Sidecar. At $5 a ticket, it's cheaper than a blanket with sleeves, and it won't make you look like a beached whale.
Oh, and this image is of the lovely letterpress greetings created by local outfit ABCD Designs Bespoke Stationery. The cards are currently sold out. Which, needless to say, sucks.
Details
The 2009 IT SUCKED! Awards, hosted by Sidecar
Monday, December 28, 9:30PM
The Upright Citizens Brigade Theatre, 307 West 26th Street; 212-366-9176
$5
More information and tickets here
Copyright FREEL - NBC Local Media