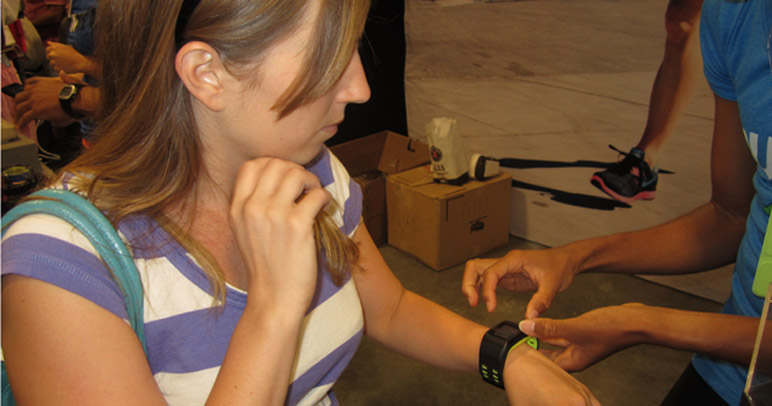 Serious runners wear sports watches. The devices feed details like instant pace, overall pace, heart rate, time, distance, calories burned and mile splits.
After about a year of running without a watch, I decided it was time to start the search for an affordable, yet fairly high-tech watch.
Finding this watch was more difficult than I imagined. I've owned two watches in the past: the Garmin 350 with GPS, which I returned immediately due to its monstrous size, and the Garmin FR60, which worked well for about five months, but then became less accurate and eventually died.
When I started my search, I knew I wanted a small- to medium-sized watch with GPS that showed time, pace and distance. I also wanted to keep within a $250 budget. After much researching online and talking to friends, I decided to try the Nike Sports Watch with GPS.
I had tried it on a race expo. I learned that it featured TomTom -- a navigation systen which records my route and distance traveled -- and a foot pod, which counts my steps and calculates my distance, a nice option if the GPS fails. The watch was also fairly easy to use with only three buttons and a tap screen to turn on the backlight and mark your miles. While the watch was a little larger than I had in mind, at only $200 without a heart rate monitor, it met all my other requirements.
Three months later, I am still using the watch, finding that it meets my running needs on most levels though it could use a couple extra bells and whistles.
Easy to Use
The Nike Sports Watch was very easy to set up. Once I registered at Nike online and downloaded the software, I was pretty much good to go. And for the most part, the watch is easy to use. There is a start/stop button and two buttons to change modes and scroll through stats.
However, you generally have to plug your watch into the computer and update your feature preferences online. While running, the watch is very simple to read, with your favorite stat displayed largely at the bottom and a scrolling or stationary list of your pace, time and calories.
Accurate and Efficient
Distance accuracy was the most important feature of the watch for me, and so far my watch has been incredibly accurate. On occasion I do have to wait several minutes for the GPS signal to connect and the pace can get a little askew on the run, but overall it is very reliable.
Finally, I don't have to worry if I forget to charge the watch once in a while because the battery life is about seven hours. The watch charges via the computer, which uploads my previous runs and resets the GPS satellite, helping it configure faster on the next run.
The Basics and Nothing More
The Nike Plus software shows your route, second-to-second time, elevation, and your splits. As I am not a stats junkie who analyzes every detail of my run, I find the software sufficient.
The splits data you use only include splits for full miles. Many major race distances include crucial tenths of a mile -- like the 26.2-mile marathon -- so I wish that splits for the end of my run appeared in the data.
Overall, I am a happy runner satisfied with my purchase. On my first run I thought the watch was a little large and heavy, but by the second run, I found it comfortable.
The watch also comes with one fun surprise – it provides positive reinforcement after every run! When I completed my first run and hit end, the watch burst into applause and "great job" along with a shower of stars appearing on the screen.
After each run it gives me feedback and accolades by telling me, "well done," "longest distance" or "record smashed." There are few GPS enabled watches available for only $200, so I am happy to forgo a few extra features and statistics.

Melissa is a NYC resident and workout junkie. She keeps motivated to stay fit and active by trying out new workout classes, signing up for races, and keeping an eye out for a fun fitness challenge. She hopes to complete the New York City Marathon for the second time in 2011. Read more about her healthy adventures in New York City at her blog fitnessnyc.wordpress.com.