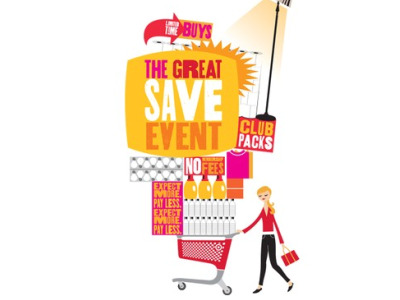 Target always seems to be forging ahead of its big box competitors and now, they're doing so with the Great Save Event now through February 21, highlighting the warehouse bargain bulk concept alongside typically design-forward, quality merch in all stores nationwide.
The Great Save will take over the seasonal sections in each Target with a warehouse atmosphere, but without requiring any club membership or loyalty program. WWD speculates on strategy, making note that major competitor Wal-mart and its Sam's Clubs division have outperformed Target in sales over the past recession-present year because of the consumer perception that Target is more expensive.
Part of the Great Save will be the "treasure hunt", sale bins of unexpected finds from brands not usually carried at the store, such as Ralph Lauren, Tommy Hilfiger and Calvin Klein. The section will be marked by flashy, neon signage announcing deals and bargains and will replace the annual home event usually held at Target in January.