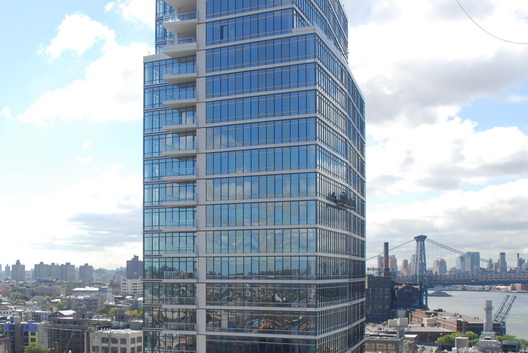 We've been down this road before in terms of our pal Northside Piers going rent-to-own and our old friend The Decora following that same path. But in this month's Real Deal, Gabby Warshawer puts all the pieces together in a pair of stories looking at both the nondo phenomenon (coming soon to a building near you) and the rent-to-own trend (happening in more buildings than we knew. For instance, the Forte in Fort Greene, from whose windows very few lights shine at night and which has absorbed some serious PriceChopping, has gone rent-to-own because of sluggish sales. Toll Brothers VP David Von Spreckelsen explains that "Because of the overall economic climate, potential buyers are having trouble making decisions about whether to buy now. And even once they do decide, they are often having difficulty lining up mortgages that suit them." Hence, rent-to-own and a hope and prayer that, eventually, "much of the confusion in the mortgage market will have abated." Or not. Which brings us to the whole nondo thing and the fact that a bunch of Brooklyn buildings originally intended to be condos (please sit down, because this shocking) are ending up as rentals. David Maundrell of Aptsandlofts, tells Real Deal that "95 percent" of the developers he works with bought with the idea of building condos, but are now spending "hundreds of thousands of dollars" to re-tool buildings to rentals. The future is here.
· Buying a condo, one piece at a time [Real Deal]
· Not so easy switching to rentals [Real Deal]For more stories from Curbed, go to curbed.com.
Copyright CURBD