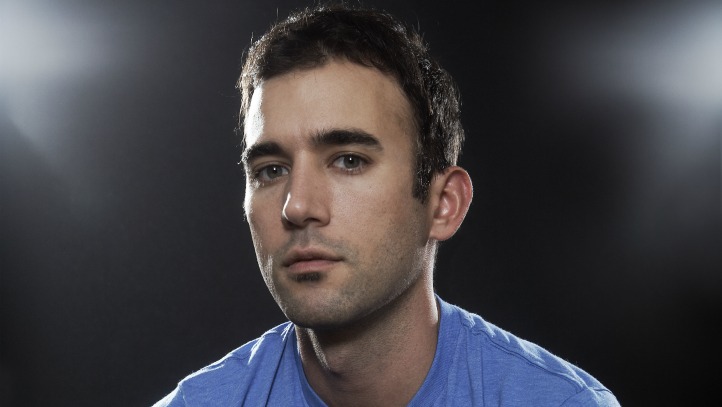 Sufjan Stevens' Age of Adz tour climaxes around the fourth movement of set closer "Impossible Soul," when he re-emerges covered in DayGlo feathers, dancing spastically alongside about a dozen co-conspirators amidst manic video-screen visuals, translucent beach balls, and a battalion of inflatable arm-flailing tube men.
As indie-anything shows go, this is sheer spectacle: Empire of the Sun meets Galaga, and "boy, we can do much more together." Prophet Royal Robertson, what have you done with our twee-folk angel?
Stevens, as you may have heard, experienced a premature midlife crisis. He grew tired of "the strummy-strum acoustic guitar song." He didn't want to make albums anymore. He devoted a significant amount of time and effort to proselytizing the power and the glory of the Brooklyn-Queens Expressway.
When he felt energized enough to record again, he gave us Age of Adz: dense with ideas and sonics, epic but hardly accessible or even very listenable.
The most inviting of melodies ("Too Much," probably) is only a minor-key horn blast or a tidal wave of electronic frequencies away from dissipating into oblivion; where once there was the tender tragedy of "Casimir Pulaski Day," there's now the weirdly aerobic sloganeering of "Get Real Get Right." Perhaps not a direct challenge, a la Highway 61 Revisited, since Stevens seems far too sweet for that, but challenging, nonetheless.
In this respect, the live performance goes a long way towards humanizing and enlivening Age of Adz. It's an immense production, but not an extraneous one: the visual impact of Adz mirrors its auditory impact, and in doing so, reveals the material's true ambit. Orchestral flourishes are met with chromatic ones; electronic drum rhythms bend the whole elaborate stage to their will.
Live, the songs are largely faithful to the recorded versions; it's not inconceivable that the idea for the tour evolved simultaneous to the album, that Stevens' vision continues to exist in multiple media at once, even after his struggles with BQE. Regardless, Adz live is an enveloping experience, well beyond a recital of the album itself — which, on headphones, often fails to captivate.
The Prospect Park crowd grew particularly rapt for the familiar, all-Illinoise encore, and you got the sense that a number had bought tickets for exactly those songs. And Stevens remains as preciously self-serious as always: twice he referenced "I Sing the Body Electric," once he argued unironically that "the new folk aesthetic is the outer-space aesthetic."
He entered the stage wearing life-sized angel wings; "Punk rock," my sardonic companion observed. But the performance realized some impressive, ambitious conceits, and could be forgiven its pretenses along the way.
Setlist:
Seven Swans
Too Much
Age of Adz
Heirloom
I Walked
Now That I'm Older
Get Real Get Right
Vesuvius
I Want to Be Well
Futile Devices
Impossible Soul

Encore:
Concerning UFO Sighting Near Highland, Illinois
Casimir Pulaski Day
Chicago