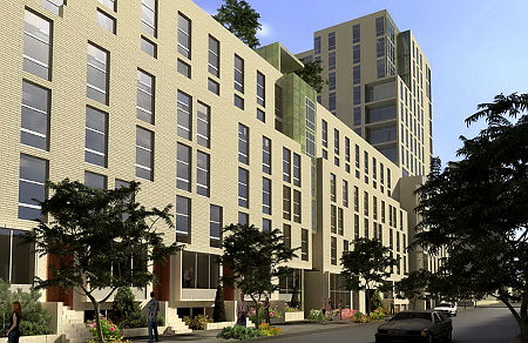 It's official: Long Island city will be getting a dorm for CUNY students, across the street from the big Queens West development. The plan for a dorm and 12-story residential building got the green light last week from the ever-popular Board of Standards and Appeals. The height of the building is double what zoning allows, but putting a "community facility" into it allowed the extra height. The dorm will house more than 200 students and the residential building will have more than 150 apartments. The original plan was for a 20-story building. That was reduced to 13 stories and, now, 12. Residents have been ticked off about both the size of the building and the fact that the dorm will house "transients." The CUNY students will be doctoral candidates and the school says they'll live in the building for up to five years. The site still needs a toxic clean up before keg parties can be held and dissertations written there.
· City OKs CUNY dorm [NYDN]
· 12-Story CUNY/Residential Project Gets Green Light [Queens Chronicle]
· Queens West & 5SL Could Get New Student Friends in LIC [Curbed]For more stories from Curbed, go to curbed.com.
Copyright CURBD