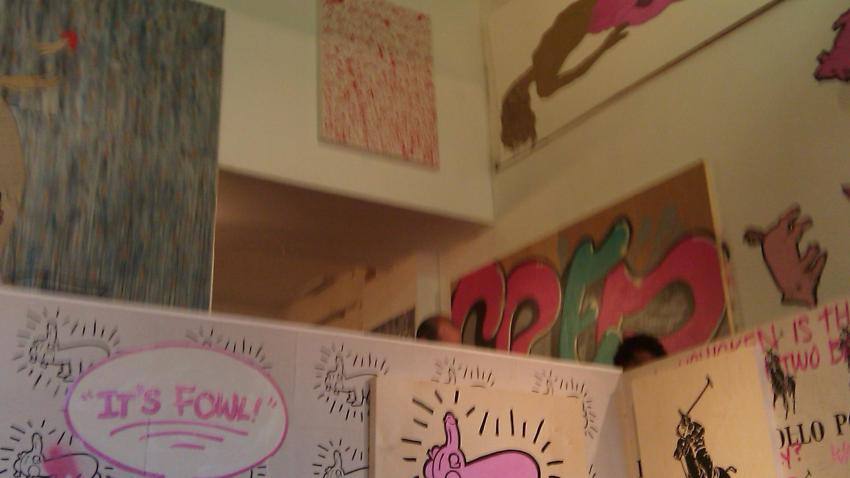 Thursday night, the Leo Kesting Gallery at the base of the High Line was overflowing with a sweaty crowd for the opening of Dead Letter Playground, a collection of "street" art, featuring more than two dozen artists -- some of whom's work you may have even seen on the street -- in a gallery setting.

One of Ellis Gallagher's ubiquitous chalk sketches of shadows (you've definitely seen these outlinings of bikes, garbage cans, lampposts, street signs, and anything else that casts a shadow on a city sidewalk) welcomed visitors to the exhibit; but instead of a shadow, the outline of a bicycle comes out of the wall, where no bike could have possibly been. His two pieces of work inside the gallery, "L.A. Flowers" and "NYC Trash" -- duotone prints of photos of his signature sketches -- demonstrate the dilemma of putting street art in a gallery.

Namely, its out of context. Like a child who walks into a movie, to paraphrase, you have no frame of reference.

Since a large part of street art is the interplay between the artist and the environment in which they are working, whether it's placement (like "holy sh*t how does he keep getting up that water tower") or context (like the politician in Rhode Island Fairy put Giant's head on, or so much of Banksy's work or, shudder, even BNE ripping off Shepard Fairy's phenomenology), Gallagher's work, which preserves the shadows of inanimate objects and serve as reminder of the passage of time and the temporary nature of the art itself, loses something when it is hanging on a gallery wall.

But of all the artists, perhaps, it's the crude drawings of Dick Chicken that most embraces the street-art ethos of parodying commercialism and advertising. Coincidentally, these drawings were probably the most recognizable.

His (or her, we guess) works for the exhibit include Ralph Lauren Polo logo (except, true to the artist's form, the horse-mounted player has a chicken with a penis for a head) with the scrawled slogan, "Lock Down Ur Daughters," and Keith Haring-esque figures (um, except they have chickens with penises for heads, too). Are you sensing a theme with Dick Chicken's work?

The street art gallery trend, and the commercialism of the genre, which reached something of a ludicrus fulcrum when a painting from "Mr. Brainwash" -- the subject of Banksy's "Exit Through the Gift Shop" -- was "stolen" from a scaffold (incidentally the "theft" occurred about two blocks from the Leo Kesting Gallery), has some street-art "purists" up in arms. "But at least these rich white kids from Williamsburg are defacing a gallery wall instead of some old polish lady's porch in Greenpoint," said one guest.

Also a block away, one of the pianos from the Sing for Hope installation -- which has placed more than 50 pianos around the city -- attracted spontaneous musical numbers. Why is it that we want to bring outside art in and put indoor art outside? And what happens to those pianos when it rains? And why does that chicken have a penis for a head?

Some things we will never know the answer to.
Copyright FREEL - NBC Local Media