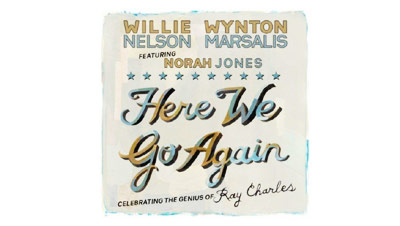 After a first successful collaboration on 2008's Two Men With the Blues, country troubadour Willie Nelson & jazz icon Wynton Marsalis recombined forces to pay tribute to the great Ray Charles.
Over two sold-out nights at Rose Theater in February 2009, and with the help of special guest Norah Jones, they tackled some of Charles' most celebrated material, from certified booty-shakers like "Hit the Road Jack" and early Great American Songbook pitstops like "Makin' Whoopee" to "Cryin' Time," from Charles' groundbreaking country crossover material. The 12-track disc Here We Go Again, out this week on Blue Note Records, is a genre-defying as the man himself.
Check out the making-of video below.
Stream the full album: Here We Go Again: Celebrating the Genius of Ray Charles [AOL Music]