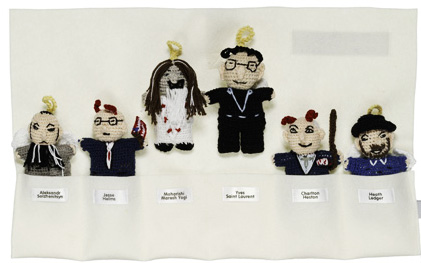 So now that It Bags are considered wildly tacky, the drive to buy discounted crap is triggering deadly bloodlust, and every other pundit thinks no-one should exchange gifts this year, is it OK to buy anything for anyone anymore?
SoHo boutique Moss -- a shop that's never pretended to be about anything other than arty, useless, high-end stuff like ottomans made of pink glass and $10,000 aquarium-chandeliers -- is offering a gift item which may have just the right amout of sobering emotional heft to pass muster for Holidays '08: Finger puppets of dead people. Specifically, high-profile types who died this year.
Created exclusively for Moss, Francesca Basilico's "Gone But Not Forgotten" Puppet Set features hand-crocheted tributes to Yves Saint Laurent, Jesse Helms, Charlton Heston and other recently-departed figures, but the most exploitative intriguing is the Heath Ledger puppet, which with its wee hat and cornflower blue smock makes the late actor look a bit like he should be driving an Amish pushcart.
The set is available for $90 from Moss, and the puppets come in a "handy kitbag" with names stitched on each pouch, so you can place who's who.
Copyright FREEL - NBC Local Media