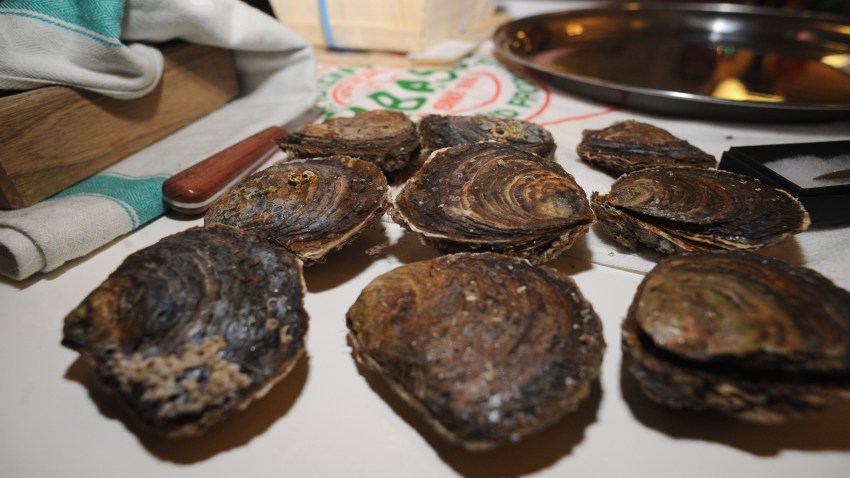 The cozy retreat from MacDougal Street that was Smith's has been flipped by the Mermaid Inn team into the lighter, brighter, beachier, honky-tonkier Mermaid Oyster Bar. Two years after selling its soul to the Upper West Side, The Mermaid Inn opens its third location boasting some of the favorites (lobster sandwich, Old Bay fries) but also 16 kinds of oysters -- from Long Island to Oregon -- as well as fish, shrimp and chiorzo tacos and a variety of sea-themed cocktails. Plus those little fortune teller fish.
Thrillist reports that the the black banquettes have been replaced with bleached wood, white walls and exposed brick. The bar that was formerly tucked away in the back has been moved to the front of the narrow space. It does not seem that it will be offering the same kinds of daily specials as its East Village sister, which, by the way started its 3rd Annual Fish Fry last week: dishing $19 fish and chips and $2 PBRs every Wednesday in November.
Smith's was a great place to hide: from your wife, the Halloween Parade or just the regular Saturday night mob on MacDougal. But it is oyster season on the East Coast, so wipe your tears and go order a couple dozen Blue Points.
But if you are in the mood for cozy, Cafe Henry, a French neighborhood staple on Bedford Street in the West Village, Monday night debuts Bar Henry -- its take on a bar Americain, at 90 West Houston Street in the former Zinc Bar location and around the block from Mermaid Oyster Bar. So you still have someplace to hide from your wife.
Copyright FREEL - NBC Local Media