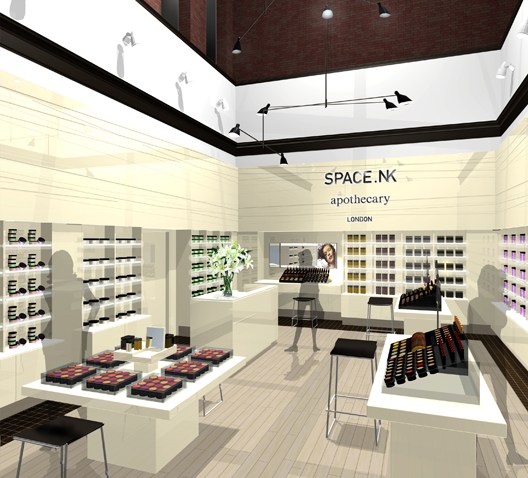 [Rendering of a Space NK shop in Bloomingdale's]
In July, department store Bloomingdale's and British beauty chain Space NK announced that they'd decided to partner up, with Space NK boutiques to open in nine Bloomies across the country beginning in November. We'd forgotten about the partnership until a Racked reader emailed, writing:
Hallo, I was at the Space NK shop in the Short Hills Mall yesterday and the shop clerk told me Space NK had just struck a deal with Bloomingdale's to open Space NK boutiques in all Bloomingdale's locations. It'll be Soho and 59th Street to start and then they'll roll out to the rest of the Bloomies locations. Currently Space NK has just four shops in the states.
Word from Space NK's PR team is that the Bloomies in White Plains will actually be the very first to get a Space NK shop, but will be followed soon after by the 59th Street location (on November 6th), and Soho (on November 10th). Founder Nicky Kinnaird will likely be on hand for the unveilings, but specific details on store opening events are still under wraps. The store-within-a-stores will all be around 750 to 1,000 square feet and will be filled with the same high-end skincare and haircare products as the company's standalone outposts. We hope they can recreate the boutiques' tranquil atmosphere as well.
· Space NK [Official Site]
· Rackage: Space NK [Racked]
· Now Open: Space NK Debuts on the UWS [Racked]For more stories from Racked, go to racked.com.
Copyright RACKN