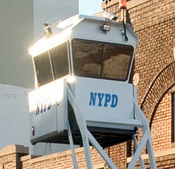 Yesterday, we have the woman who felt 'stranded' at Schaefer Landing in her $1M condo. Of course, we've also had the notorious machete attack. And now this news in today's Post: "A new offshoot of the notorious Bloods gang has raised its ugly head in South Williamsburg, sparking a police crackdown in the Brooklyn neighborhood, authorities say." We've picked up numerous reports of crazy levels of police activity on the Southside including one tipster who left a voicemail saying that she felt lucky on Friday night to not have been shot or stabbed. The issue seems to be that the Pretty Boy Goonies (the PBGs for short) "have repeatedly clashed" with the Trinitarios, a Dominican gang "whose power base" is the Marcy Houses in Bedford-Stuyvesant. A local City Council Member says: "This is not fist-fighting we are talking about. They are using machetes to stab and slash, and screwdrivers. There are brawls in the streets, in broad daylight, stopping traffic." A sweep this weekend (which might have been what our tipster ended up in the middle of) netted 14 suspects. The Tower 'o Fun (which was doing the South Burg in summer) has been set up at Marcy Avenue and South Fifth Street. It may not make it easier to sell luxe condos on the Southside, but it could make a dinner trip to Peter Luger very exciting for reasons that go way beyond the good meat.
· 'Boys' Are Pretty Bad [NYP]
· South Burg Degentrification Watch: Feeling Stranded [Curbed]For more stories from Curbed, go to curbed.com.
Copyright CURBD