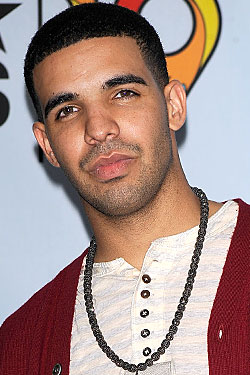 We've seen 'em come and go this summer (remember Rob Thomas?). Mariah Carey has been rock-solid so far, but this week we say good-bye to her as well; all the album-release pushbacks and cancelled promotional appearances aren't what "Obsessed" needs to stay afloat.
But there's happy news! One fellow who hasn't gone anywhere all summer is Drake, steadily represented both with "Best I Ever Had" and the collaboration "Every Girl." He now makes an unprecedented third concurrent appearance on the list — something even the Black Eyed Peas haven't achieved — with "Successful," another surprise smash off his mix tape So Far Gone. Yes, "Successful" is this week's Biggest Gainer. It has entered the lower end of the Hot 100 this week, but more important, it's getting all kinds of Hot 97 love. Now, onto the rest of the top ten.
1. Black Eyed Peas, "I Gotta Feeling": BEP continue to smash all kinds of records — with another week at number one, they'll have broken Usher's mark for longest streak a top the Hot 100. Even the Apple Store Kid loves them ... so why can't we?
2. Drake, "Best I Ever Had": A spot of label drama has been the first hiccup in Drake's buzz-saw-like cut to the top. But seeing how it has to do with label execs fighting over who gets to claim credit for his success, that's not really a bad thing for him.
3. Young Money, "Every Girl": A very nice run, considering this is a posse cut consisting mostly of verses from rappers you will never hear from again. But the subplot? What's up with Lil Wayne's solo career? We can't believe he's been content to ride shotgun to these dudes all summer.
4. Taylor Swift, "You Belong With Me": Commenter Lockhart reminded us of this "uuuuber-catchy" Swift jam — now No. 2 on the Hot 100. The truth is, we've been treating the album like a sacred document and hardly tracking the singles.
5. Pearl Jam, "The Fixer": You were expecting another PJ song here? They're not Drake, okay?
6. Jeremih, "Birthday Sex": Much like "Boom Boom Pow" and "Blame It" before it, another front-runner now on slowly, steadily — and, with time running out, most likely irreversibly — slipping.
7. Drake feat. Lil Wayne and Trey Songz, "Succesful": This song is a bit too slow and dark to really make an impact, we're going to guess, but it is an excellent bit of evidence for why everyone's so high on this guy — who else is rapping about leasing Phantoms and fighting with his mom?
8. Demi Lovato, "Here We Go Again": We're fully aware we now have two tween-pop princess in the top ten, and we have no problem with that. It is 2009, after all.
9. Wavves, "Cool Jumper": Hella's Zach Hill helps puts together a fuzzy blast about ... well, we're not sure what — is it jumper, like a person jumping, or jumper, like a British person's sweater?
10. Shakira, "She Wolf": Climbing on the charts and dominating the Latin Pop demographic. Which leads us to today's fun fact: She wolf in Spanish is, apparently, loba.
Previously on Vulture...

Copyright VULTR - NY Mag