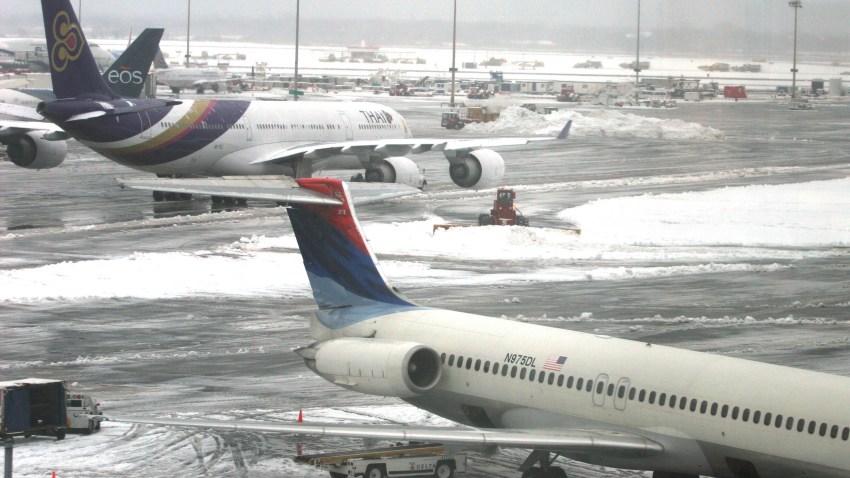 Travelers trying to get a head start on their holiday vacations were slowed by snow Friday as a storm from the Midwest swept across the Garden State, grounding hundreds of flights and slowing traffic across the state.
The storm brought snow north of Monmouth County and rain to the south. The heaviest snow was been reported north of Route 78. By 7 p.m., the bulk of the storm had moved through.

---
PHOTOS: Winter Wonderland in the Empire State
VIDEO: While You Were Sleeping ... l Bloomberg: Go Out 'n Play
SLIDESHOW: Your Snow Photos l Snow Across the Country

---
Nearly 430 flights had been canceled at Newark Liberty International Airport by Friday afternoon, said Steve Coleman, a spokesman for the Port Authority of New York and New Jersey. Meanwhile, departing flights were running an hour late and arrivals saw five-hour delays.

Nearly a third of the daily flights at Newark Liberty, Kennedy and LaGuardia airports had been canceled as of late Friday afternoon, Coleman said. The three airports average about 3,500 flights every 24 hours, with 1,400 at Newark.

Road conditions across the state were faring better. Light traffic volume, warm road temperatures and heavy salting kept motorists moving.

"You can see blacktop" on the New Jersey Turnpike and the Garden State Parkway, Joe Orlando, a spokesman for the Turnpike Authority, which oversees the state's two main toll roads, said at mid-afternoon Friday. "Schools closed yesterday and that's keeping everybody off the road."

Nevertheless, the snowfall made for a slow motion evening commute in northern New Jersey, with dozens of minor accidents reported as falling temperatures caused road surfaces to freeze.

The heaviest snowfall was recorded in Wantage, in the northwest corner of the state. The Sussex County community got 9 inches, according to the National Weather Service in Mount Holly.

Seven inches of snow fell in the Morris County community of Butler, while about 4½ inches was on the ground in Newark and Union got about 3½ inches.

More than 1,000 snow plows and salt trucks were dispatched across the state, transportation officials said, and speed limits on the Turnpike and Garden State Parkway were reduced for much of the day.

Many state workers were released at 3 p.m., and some businesses closed early.

Some drivers, however, were annoyed by overly cautious drivers.

"It's not the roads that are bad, it's the people who think they are and are being way too cautious," James Jackson said as he waited for his lunch at a Jackson Township convenience store. "I can understand slowing down some and taking care in this type of weather, but it's really just a lot of rain out there. You don't need to be doing 30 miles per hour -- drive like you normally do."

The storm was a boon for 54-year-old Jose Rodriguez, of Newark. The laid-off truck driver hoped to make $200 shoveling snow from business sidewalks and parking lots Friday.

"The snow is good news for me," Rodriguez said as he cleared a sidewalk outside a check cashing shop.

But for Angel Torres, 28, of Newark, more snow means less money.

The tree services worker, who is paid hourly, said he was told to take the day off. He spent part of the afternoon visiting with a friend who manages a cheese steak shop.

"This storm is messing me up," Torres said.
Copyright AP - Associated Press