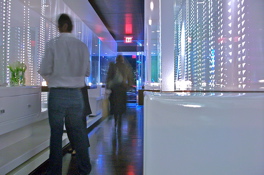 Midtown: Last night, new space age Lebanese spot Naya opened for a media preview, and an Eater correspondent was on the scene to give her a once over. First of all, place doesn't belong in Midtown. The design unusual by Midtown standards. Owner Hady Kfoury was on hand last night, and when someone complimented the design, he beamed, "Some people think it looks like a microwave, but everyone who has seen it has liked it." (For the record, it does resemble a microwave.)
As if on cue, Todd English strolled into the restaurant with former Tao honcho Sam Hazen, to prove the place shouldn't be taken lightly.
As for the food, the menu is indeed at odds with the restaurant's aesthetic; while the latter skews modern, the former is traditional, featuring mezze alongside heartier fare like schwarma and kebabs. Naya, as compelling as it is, lies all the way over on 56th and 2nd and runs the risk of going the way of the nearby and shuttered Med joint Savarona if they don't do a brisk lunch business.
—Paul Caine
· Eater Inside: Naya Mezze & Grill [~E~]For more stories from Eater, go to eater.com.
Copyright EATER