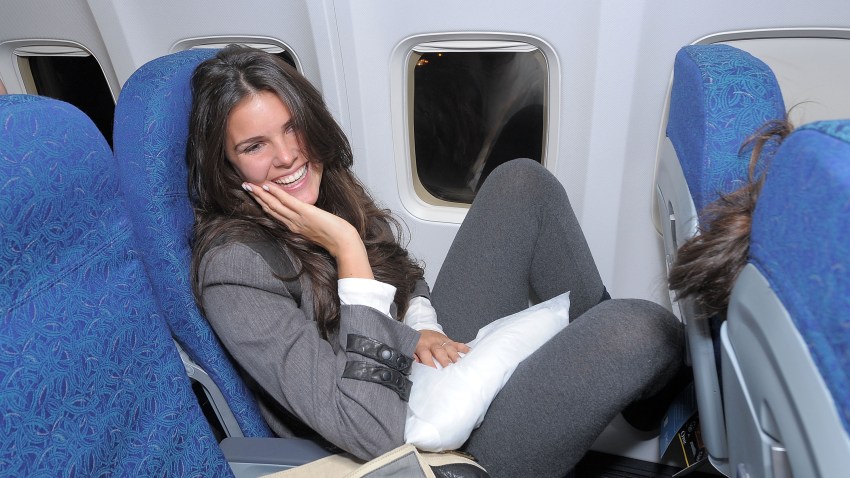 Ever notice how you start to feel sluggish after sitting on a long flight? Sitting in a cramped seat for an extended period of time isn't just uncomfortable -- it can cause deep vein thrombosis in some extreme cases, a serious condition in which a blood clot forms in the leg.
Performing exercises while in-flight can help you feel more invigorated and ensure maximum blood flow to your legs, and LiveStrong.com offers a few tips:
Leg and Feet Exercises
Rotate your ankles in circles both clockwise and counterclockwise

Place your feet flat on the floor; alternate lifting the front of your foot, followed by the feels. Perform 10 or more repetitions of the exercise.

Work the entire leg by extending each leg for five seconds, keeping your knees straight as you extend your leg. Pull your knee toward your chest to help relieve stress on your knee joints after sitting for long periods of time, using your hand to help pull your knee toward your chest. Perform knee exercises on one leg at a time, repeating 10 to 20 times.

Upper Body Exercises
Move your arms toward your chest from a starting position on the arm rests, keeping your elbows on the arm rest as you move your arms. Repeat the exercise 20 to 30 times.

Bend forward slowly until you can touch your ankles with your hands, hold the position for 10 to 15 seconds, then slowly return to an upright position. This can help release the tension in your back muscles.

Loosen shoulder muscles by rolling your shoulders up, to the back, front and back down again. Start neck rolls by leaning your head to the left and slowly making a forward circle with your neck until it turns toward the right side of the body. Repeat the exercise from right to left.