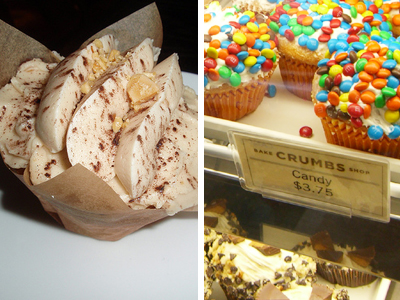 Just recently we told a friend of ours that we'd stopped in for a cupcake at the new University Place outpost of Crumbs Bakeshop (we had the chocolatey "Artie Lange," probably our first baked good named for a drug-addled comedian) and were met with a haughty "Crumbs? That place sucks. Their stuff tastes like cardboard." Hmm, forceful. "Why go there when you can go to Sweet Revenge?"
So we put it to you. Crumbs vs. Sweet Revenge in a cupcake smackdown. The stats:
Crumbs
www.crumbsbakeshop.com, multiple Manhattan locations
A chainlet that's growing like mushrooms, with eight Manhattan locations, and outposts in the Hamptons, Connecticut, Jersey, and California. Cupcakes are almost impossibly prettily decorated, and come in flavors like Caramel Chew, Coconut, and Twinkie. The slug: "Made by Hand. Baked With Love." The vibe: Ye olde bakery. Also, not bad coffee.
Sweet Revenge
62 Carmine St., no website yet
New single-location joint is deliberately anti-cutesy; feels more like a Venetian osteria than a cupcake shop. Cakes come in flavors like peanut butter (the namesake Sweet Revenge), Mayan chocolate, and pumpkin spice. The gimmick: Frilly cake sleeves replaced by hand-torn squares of brown paper. To-go orders are stuffed in a cup and served with a Muji-esque wooden fork.
Copyright FREEL - NBC Local Media