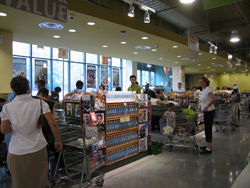 It's time again for Shopping The Personals, a recurring Racked feature wherein we comb through the retail-based Missed Connections listings on Craigslist.
Whole Foods seems to be the most popular grocery store for city singles to make eyes at each other in. There are so many opportunities: You brush up against someone at the salad bar, you run into someone in the cheese cave, you make chit chat in line. And then, lacking the courage to make a move, you post a missed connection about the encounter on Craigslist:
1) Tribeca: "I asked you if it was safe to leave my bike unlocked in the shopping cart area. When I jokingly suggested that leaving the bike light on would deter thieves, you laughed, and were absolutely adorable. Anyway, my bike was stolen. Despite your poor judgment, I would still like to hang out. You could make it up by shopping for groceries with me (and paying)." [Listing]
2) LES: "We made eye contact several times, you behind me, me behind you in separate lines. You moved to the register and I coincidentally lined up next to you. I paid, grabbed my reusable bag and dashed off, smiling one last time at you. You were wearing a navy baseball cap, auburn tshirt and shorts and look v neighborly. What are the chances that you would read this?" [Listing]
3) Chelsea: "You, white male with brown t-shirt and jeans, me Latino in shorts. I like what I saw...drop me a line if you see this and ur interested in trading photos or chat." [Listing]For more stories from Racked, go to racked.com.
Copyright RACKN