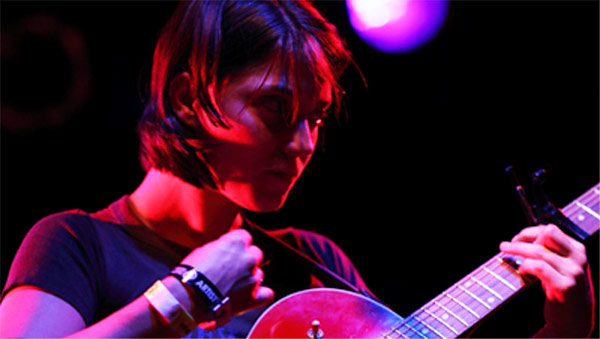 Ricocheting off a monthlong European tour opening for The National, Brooklyn-via-Jersey-via-Tennessee-via-Jersey singer-songwriter Sharon Van Etten is on the road again with a 30-city tour in support of her 2010 album epic. She just played SXSW, has Sasquatch and Bonnaroo on the calendar, plus she's about to enter the studio with The National's Aaron Dessner to make her next record. With all her free time, and in anticipation of her Music Hall of Williamsburg show on April 16, she answered the Nonstop Sound Q.
Name: Sharon Van Etten
Age: 30
Lives in: Everywhere, USA
Occupation: Musician

What's on these days?
I'm doing a full U.S. tour and, in-between, recording a new album with [The National's] Aaron Dessner.

First real job?
I was a Stewart's root beer girl.

First record you ever bought?
"I Wanna Dance With Somebody" by Whitney Houston.

Where do you go to unplug?
Bed.

What time do you wake up?
10AM-ish.

Where was your first NYC gig, and what do you remember about it?
The upstairs of Pianos on the Lower East Side. It was free and all of my family was there.

Top three songs in your iPod rotation?
"Tea Lights," Lower Dens
"The Alter," Wye Oak
"Blood Buzz Ohio," The National

What do you splurge on?
Boots.

To when do you point your time machine?
The 1920s.

Best meal you've ever had in NYC?
Anything at (now-defunct) Diner in (Williamsburg,) Brooklyn.

What's your drink?
Red wine.

First childhood memory?
My mother letting me wear a tutu to preschool, even in winter, with a sweatsuit underneath, because my teacher told her it would help me to express myself.

What's your pre-show ritual?
I'm still figuring it out. Breathing. Trying to have a moment alone. High-fiving the band.

Do you Google yourself?
Not anymore, but my dad does.

Most treasured possession?
My guitar, Ruby.

Fill in the blank: In a previous life, I was ______.
...a jester.

Your favorite thing about yourself?
Not much gets me down.

Who are your heroes?
My parents and Woody Allen.

What scares you?
Dark clouds.

Fill in the blank: I'll know I've really made it when __________________.
...I have a home.

Tweet your obit (140 characters or less).
Born Jersey
Loved
Died Jersey
--
heart,
sve
Sharon Van Etten with Megafaun and She Keeps Bees at The Music Hall of Williamsburg on Saturday, April 16, doors 8PM, show 9PM, $15 advance tickets available here.