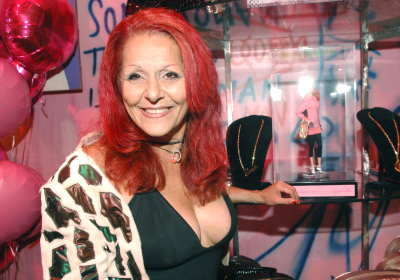 Stylist-to-the-stars Patricia Field, best known as the costume designer for the "Sex & the City" franchise, said last night during her posh rooftop swimsuit soiree, sponsored by MCM Worldwide, that she isn't interested in being a trendsetter.
"I'm just trying to tell a story with my clothes," Field revealed to Niteside last night amid a fashion-forward crowd partying on the rooftop of 230 Fifth. "I'm not trying to call out the next big thing. I'm not saying what people in New York should be wearing.
"If there happens to be gladiator shoes in the movie I'm not saying everyone should buy a pair."
Field, whose clothes are held in high regard in the fashion world and mainstream culture, has had a busy week celebrating the highly anticipated premiere of the sequel to the box-office sensation -- and last night was no exception.
But ahead of Tuesday's party, Field was honored with the Variety Ensemble Award by The New York Women in Film & Television's "Designing Women." Her work has been featured in hits like "The Devil Wears Prada," "Ugly Betty" and "Confessions Of A Shopaholic," to name a few.
While she admitted those projects were fun, we know which four ladies she loves to dress the most.
"There's a club of one billion women who speak the language of "Sex And The City," Field said, smiling. "I'm getting stopped on the streets of Korea, in the shops of Sao Paulo. It's penetrated the entire globe."
We believe her given the amount of people pawing at her during the party's main attraction, a fashion show that featured swimsuits by House of Field by David Dalrymple, Ivana Sert and The Blonds, who've designed for Rihanna.
Field wouldn't share any wardrobe bloopers from the set of the blockbuster -- because apparently there weren't any -- but she did share a particular skill that Sarah Jessica Parker has gained during the franchise: "She can sprint down the street in 8-inch heels."