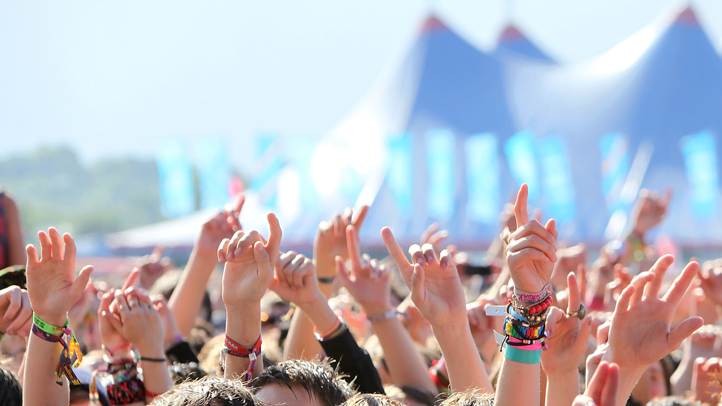 We're doing our best here at Nonstop Sound to keep the loyal reader apprised of any opportunity for live music this concert season. But let's be honest – sometimes we just want to kick back in a kiddie pool, Bartles & James in hand, our tuneage fix coming from the stereo.

Here are the albums to watch for – because they might just pass you by.
Wu Lyf – Go Tell Fire To The Mountain
Everybody gabs on and on about "the summer anthem," that song that gets us into a cross-country chorus line. Though it may not be exactly radio-ready, we can guarantee nothing will be more anthemic than any single track on this album. Full of round-the-world gang vocals and gigantic, driving organ, this album from the Manchester mystery band is road-ready for singalongs. It's energetic, unanimously hopeful, with a tinge of modern dysphoria. "Spitting Blood" has been our favorite for a while, but every song absolutely shines -- don't miss this one.
Givers – In Light
Melding a subtle male-female vocal tropicalia with super-groovy rhythms and bright hooks, In Light recalls Talking Heads as much Menomena, with the Louisiana-based band moving from driving funk to African rhythms with ease. All the while, we're treated to deft guitar work floating carefully along the top. The album's leading track "Meantime" features festival-ready orchestra hits and handclaps. It's joyous and shimmery and ready to stay in your parkside boombox all summer long.
Gold-Bears – Are You Falling In Love?
Nothing like bright and upbeat scruffy pop to get you through a sweltering day. Gold-Bears have more dimension than the garage, though, showing off flashes of instrumental diversity without ever being bogged down by any single idea -- harmonica, horn, synth, drone, it's all here and it all makes sense. The album also recalls the blasé vocal attitude of later '90s alt-rock as much it does any no-fi notions. But with a great understanding of melody and sentiment, Gold-Bears is nothing but hooks, energy and fun.
Def Leppard – Mirrorball
Yeah they used to be huge, but we have a feeling this will be drastically overlooked. So why is this on the list? Because why the hell not? There is nothing like arena-rock at a rooftop barbecue to get your juices flowing. And this three-disc set (a bunch of live cuts, three new studio jams, and a DVD) is enough to eat up an entire summer day that's too hot to leave the apartment. Hey guys, what has nine arms and still exists? Def Leppard.
Com Truise - Galactic Melt
Galactic Melt is the perfect name for this made-for-a-heat-wave electro dance music. Bubbly '80s synth propels this laid-back but still-frenetic album, with big beats laying the groove. It has out-of-this-world space jams, a little down tempo, and it's perfect for a late night in the heat of the digital age. This Princeton, N.J.-based producer has an ear for texture and tension, but this release never feels too dense or uncomfortable. Think Emeralds or Neon Indian underscoring Miami Vice -- dreams really do come true.
Dale Earnhardt Jr. Jr – It's a Corporate World
I guess we can call it political, but the lyrics seem to concern the emotional more so. As for the music? Great, accessible and fresh, with odd tinges of instrumentation for such a straight-up rock record. Big harmonies and huge choruses make this an album you could share with your girlfriend on a beach blanket pretty easily, though that might simplify it too much. Regardless, it's a melodic and sexy take on well-worn territory.
Babe Rainbow – Endless Path
Warp Records has a hard time doing anything bad, and this new EP from Vancouver-based producer Cameron Reed is damn fine proof. With funky hip-hop drums, a menacing verse form Young Clova, and samples twisted all over the place, Endless Path is a little swampy and a little creepy. But it's also languid, laid back, and altogether enjoyable.
What'd we miss? Tell us in the comments how bad we are at music.