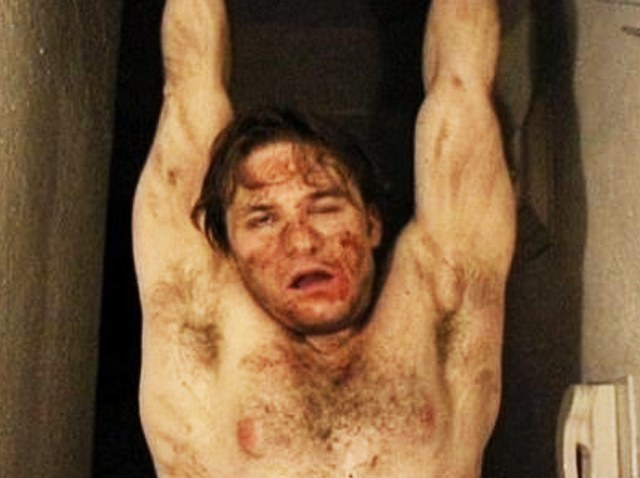 When we first saw actor Zachary Oberzan's low-budget movie tribute to "Rambo", it appeared as a video triptych last spring behind the experimental-but-funny-as-hell Soho Rep work "Rambo Solo" by Nature Theater of Oklahoma's Kelly Copper and Pavol Liska. In it, Oberzan took audiences through a detailed retelling of David Morrell's novel "First Blood," complete with analysis of movie vs. book.

Now, he's turned this piece of genius footage into "Flooding With Love for the Kid", which premieres tomorrow at Anthology Film Archives, with Oberzan in attendance, and runs through January 10.
In it, Oberzan – who shot the film for less than $100 in his 220-square-foot Manhattan studio (take that, "Paranormal Activity"!) – recreates a mish-mash of Morrell's tome and Stallone's "Rambo", playing not just the iconic verge-of-meltdown Vietnam vet, but every character in the story. And it works – somehow, Oberzan pulls off the dynamics of tacking between heartfelt moments, brutal truths (three words: rectal cavity search), action stunts (executed in his postage-stamp-sized apartment, remember), and utter hilarity born of the premise itself.

The Times calls "Flooding" a "brilliant morsel", while The Guardian goes with "bat-sh*t insane." We agree with both.
Details
"Flooding With Love for the Kid"
Friday-Sunday, January 8-10; schedule varies
Anthology Film Archives, 32 Second Avenue, 212-505-5181
$9
More information and tickets here
Copyright FREEL - NBC Local Media