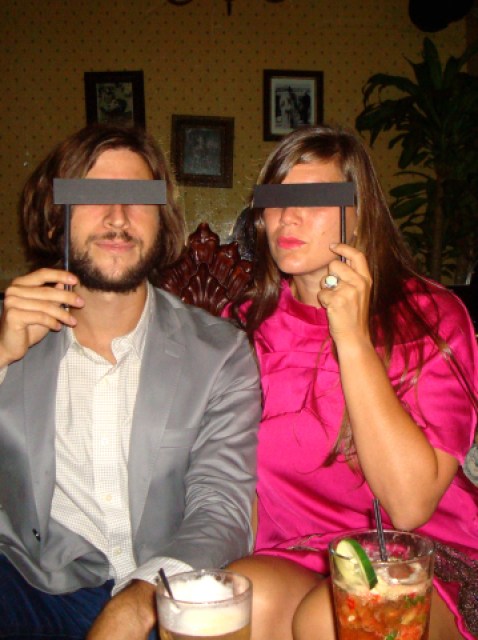 Secret book-making society The Underground Library revealed to Niteside last night the inner-workings of their clandestine club.
Him and Her -- aliases the two requested in order to maintain the club's secrecy -- sat in the back room of The Blind Barber in the East Village Thursday evening, explaining how books in their group are passed along by hand and inheritors add their own unique page, comment or illustration.
"There's something about going to a library or used book store and seeing highlight parts or notes," she said. "It gives the book character. You feel like you're contributing something."
Him and Her started the non-profit project a year ago to provide an "alternative distribution method" of original writing, music and art. As books flow through the hands of friends and acquaintances, the Underground Librarians keep track of the traveling items through e-mail and signatures on adorable little library cards behind each cover.
"The aim is to provide this antiquated, somewhat mysterious way to look at new work," he said.
Him, 29, and Her, 31, aren't afraid to call themselves "weird shadowy people who write e-mails in parenthesis" (because everything is a whispered secret). They reasoned it's because the club is not about them but about the artists. Writer Andrew Gori, artists Mickey Sumner and Ambre Kelly and musician Kissed Her Little Sister are now being featured.
The club is not exclusive. Anyone can sign up to pay a yearly $40 to $1000 to receive books. Him and Her estimate they have about 160 members that range from 13 to 75-years old, from techies to illustrators, but are all mostly creative. Sometimes they receive e-mail responses in poem. Half are in New York and some hail from as far away as Japan.
Book-making must be a labor of love, because it takes two to three hours to make each and more than 300 are circulating. Covers are made out of materials like fabric and canvas by what he calls "monkeys in a factory" -- that is friends and members in assembly line fashion.
"Bookmaking is something esoteric. Everyone knows how to make a website, but making a book is scary," he said.
These masked characters, who teamed together and fundraised to make Underground Library happen, love what they do. Few know their real identities, but they aspire to connect creative, literary types all over.
"We migrated [to New York] because we love art," he said. "We needed a community. There's such a need for a community."