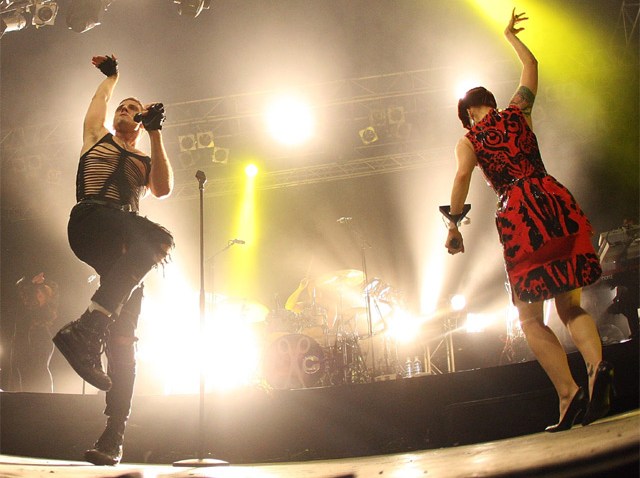 It's a sad day for fantastically glamorous disco-rock bands the world over: New York's own Scissor Sisters have called off nine tour dates across the Atlantic. Yesterday, the band issued this frank statement:

"Due to funding issues, it has become impossible to make the tour work financially. The band are very disappointed, but it is beyond anyone's control."

Does anyone else find the geography a bit ominous? Scissor Sisters have long enjoyed massive stardom in Europe compared to their more modest acclaim Stateside; their 2004 self-titled debut reached No. 1 on the UK Albums Chart, buoyed by their ubiquitous single "Take Your Mama," a triumphant coming-out (in more ways than one).
Europe was certainly years ahead of the United States in embracing the larger-than-life personalities in the band, including openly gay singer Jake Shears and witty, proudly feminist co-vocalist Ana Matronic. This year's more club-oriented Night Work, their third album (you may recall the eloquent cover art of clenched buns), was also received most popularly across the Atlantic; it reached #18 on the U.S. Billboard 200 but hit #2 in both the United Kingdom and Greece. (Those Greeks love Babydaddy.)

The band did sell out out their two-night stint at Terminal Five this August, so there is hope yet. Hopefully their financial woes end here; if nothing else, they can always counter-sue Dave Grohl. He's good for it.

Copyright Getty