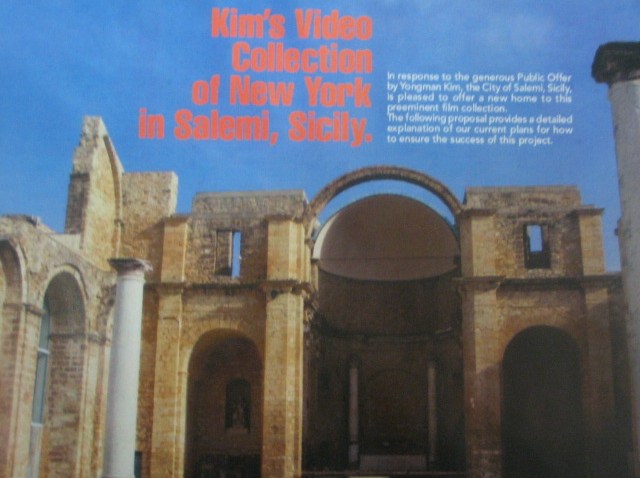 Mondo Kim's collection ins leaving St. Marks and going to the village. Not The Village village, but that of Salemi, Sicily. The bid to keep Kim's rare (and eclectic but often bizarre) video collection intact and in New York at an academic institution ended in October. Owner Youngman Kim had made a public appeal in September and spoke to NYU and The New School among others about keeping the collection all in one place, local, and available to the public. Apparently neither institution could justify the expenditure to keep "Blood Sword of the 99th Virgin", "Shorty the Pimp" and the complete works of Vittorio De Sica and Godard on tap for New Yorkers.
But a small village in Sicily could. With the last rentals from Kim's St. Mark's flagship having gone out New Years Eve now on their way back, their next stop, along with the rest of the 55,000 titles, will be Salemi, Sicily—an ancient city full of ruins and archaeological sites that will now house a more recent piece of history. Large parts of Salemi were destroyed by a 1968 earthquake and has been the site of some unorthodox restoration plans. The Mayor of Salemi has promised "The Neverending Film Festival," and if you're a Kim's member you already have comp admission—just hop the next flight out.
The store's clerks were known for their surliness, but to some of the shop's fans, that odd ball charm was part of the appeal. in fact one employee was notorious for only recommending films by Michelangelo Antonioni—no matter what a customer asked for. However, "if you need to be laughed at and ridiculed and have your overall movie watching habits raised to a new level by video store employees," Gothamist suggests you go to Reel Life on Bedford Ave in Williamsburg. All the piss and vinegar seems to have finally gone out of Mr. Kim after the long search. He is resigned about the dominance of Web video services. "I now do not want to fight against the new stream," he told the Daily News. "I just want to disappear calmly."
Copyright FREEL - NBC Local Media