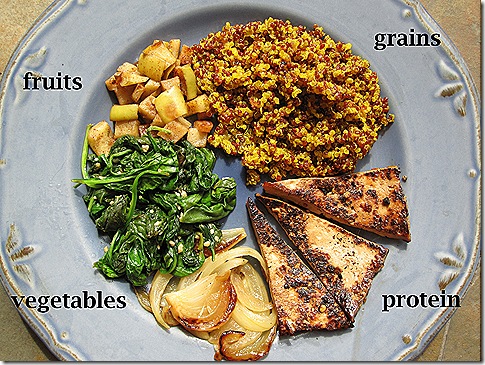 Flashback to two weeks ago: A New York City nutritionist eagerly anticipates the USDA's unveiling of the new food icon set to replace the longstanding food pyramid.
She envisions the new symbol — rumored to be a plate — filled with colorful, nutritious food options that might inspire America to eat well. On the morning of its launch, she opens her laptop and is introduced to "MyPlate."
At this point I'll part ways with the obnoxious third-person narrative, and just let you know that I was disappointed. But not in the way you might expect.

The nutritionist in me thought the USDA did well. A bit of grains and protein with an abundance of produce? Sounds about right to me. MyPlate is certainly not perfect (the dairy section is arguably unnecessary) -- but the new icon is definitely a step in the right direction. (Although, really, what wouldn't have been an improvement upon a confusing triangle touting Triscuits as a whole grain?)

It was the food enthusiast and educator in me that was left disappointed. MyPlate — as an educational visual meant to guide America's food choices — failed to whet my appetite. There's something uninviting and uninspiring about a color-coded, captioned plate with, uh, no actual food on it, don't you think?

Now I realize I can't criticize the USDA for not contracting Real Simple's food stylists to design an aesthetically captivating MyPlate. But I do worry that most Americans will find it too vague and overly simplified to visualize and conceptualize what a MyPlate-friendly meal might look like. In other words, how do we construct a cohesive (and preferably delicious!) meal with the recommended balance of fruits, vegetables, grains and protein?

Here's where this week's recipe comes into play. In an attempt to bring to life the beautiful USDA MyPlate I'd envisioned (oh, and also to put the recommendations into perspective for you), I've created a MyPlate-inspired meal that puts some real food on your (and my) plate.

This "'Put Some Food on MyPlate' Spiced Quinoa with Maple Glazed Tofu" (recipe below) is a sweet and savory quinoa and vegetable medley accented with sautéed apples and pan-fried tofu. For illustration purposes, I assembled the meal to reflect the MyPlate recommendations. But, really, this dish is best when thrown into a big bowl and mixed with reckless abandon for which macronutrient you're biting into.

So why should you get this Sarah's Plate interpretation of MyPlate onto your plate? (Sorry, I just had to.) Let's break it down bite by bite (or food group by food group):

Fruits and vegetables: It's not always easy to get fruits and vegetables to play nicely on one plate, as their contrasting flavor profiles often fight for the spotlight. But I find grain salads the perfect milieu for both the sweet and the savory to shine. The apples, on top of being rich in vitamin C, are packed with phytonutrients that regulate blood sugar. The fact that they're caramelized in cinnamon — also linked to stabilizing blood sugar and improving brain function — is just icing on the plate. The baby spinach (rich in just about every good-for-you vitamin and mineral) and the onions (boasting anti-inflammatory polyphenols) are both at the top of the list of vegetables linked to cancer protection.

Grains: If it walks like a grain and talks like a grain… it might be seed. Yep, quinoa is actually a seed, relative to leafy green vegetables like spinach and kale. But for our plate's purposes, we'll consider it a grain — and a super-grain at that. Not only is quinoa a complete source of protein – meaning it contains all nine essential amino acids — it's also rich in nutrients (manganese, magnesium, iron, copper and phosphorus) that can ease migraines and symptoms of diabetes.

Protein: Tofu, shown to lower triglyceride levels, plays the role of protein on our plate. And in an attempt to keep the dish vegan-friendly, it also stands in for dairy. Dairy's main nutritional contributions come in the form of protein and calcium. Any tofu will cover the protein aspect (don't forget we have our quinoa for that, too!), but look for tofu set with calcium sulfate (rather than nigari sulfate) to match the calcium you'd find in a glass of milk.

Healthy fats: I opted for unrefined peanut oil because of its nutty flavor, but also because it has a higher cooking point than, say, olive oil. You'll find no mention of fats — healthy or not — on MyPlate. But this doesn't mean our bodies can do without them. In fact, if you eat a low-fat diet, your body cannot properly absorb the plentiful nutrients in all of the aforementioned food groups.

So tell me: How do you plan on getting the MyPlate recommendations onto your plate? Let me know in the comments below!
---
"Put Some Food on 'MyPlate'" Spiced Quinoa with Maple Glazed Tofu
Serves 4
INGREDIENTS
1 block tofu
¼ cup shoyu or low-sodium soy sauce
¼ cup ginger maple syrup (or ¼ cup maple syrup + ½ tsp. ground ginger)
2 tsp. rice wine vinegar
2 tsp. minced garlic
1 tsp. chili garlic paste

1 cup uncooked, rinsed quinoa (I used half red and half white)
2 scant cups vegetable broth
½ tsp. turmeric
3 tbsp. peanut oil, divided
1 extra large Vidalia onion, sliced thinly
6 cups fresh baby spinach
2 tsp. minced garlic
1 extra large Granny Smith apple, unpeeled and finely chopped
¼ tsp. cinnamon
Salt, to taste

DIRECTIONS
Slice tofu into ¼ inch thick pieces, and then cut diagonally into triangles. Combine shoyu through chili garlic paste. Lay tofu in a large baking dish, cover with marinade and let sit for anywhere between 1 hour and 2 days (flipping occasionally).

Combine quinoa, vegetable broth and turmeric in a saucepan, and bring to a boil. Reduce heat to simmer, cover and cook for 15-20 minutes, until broth is absorbed and quinoa is fluffy. Remove from stove, let cool slightly, fluff with a fork and set aside in a large mixing bowl.

Warm 1 tbsp. peanut oil in a skillet over medium-high heat, and sauté onion until translucent and browned, about 10 minutes. Add onion to mixing bowl.

In the same pan, heat another tbsp. peanut oil over medium-high heat, add spinach and garlic. Toss to coat and cook until spinach is just wilted. Set aside to mixing bowl.

Again, no need to wash the pan, heat a tbsp. peanut oil with cinnamon and add diced apple. Sauté until At this point, there should be residual oil (and flavor!) in your skillet. Over medium-high heat, cook slices of tofu for 1-2 minutes on each side. Be careful not to overcook. You want a browned outer crust, but the texture shouldn't be rubbery.

Add residual tofu marinade to quinoa mixing bowl and coat. Season with salt to taste. Divide among four bowls (or plates!), and top with tofu.


Sarah Levy is a New York City-based nutritionist and food writer. As a board-certified nutrition specialist and a self-certified foodie, Sarah believes in a bipartisan respect for our taste buds and our waistlines. While it is often assumed that sound nutrition and delicious food are mutually exclusive, Sarah is on a lifelong mission to teach others that nutritious can be delicious. When she's not consulting with clients of her private practice Health Should Taste Good, she's eating, cooking, "happy hour-ing" -- and blogging about it all at The Foodie Diaries.