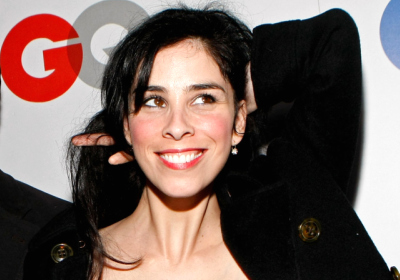 For any self-respecting fan of "The Sarah Silverman Program," the first thing they had to wonder last night at the eponymous star's Urban Outfitters book signing was, who is looking after her pooch, Duck?
"Tall Jon Schroader is!" the crass comic exclaimed, curled up on a couch in the back office of the over-priced T-shirt and ironic book hawker. "He's a writer on my show and may be my best friend."
Silverman had been all smiles for an hour as she signed copies of her memoir, "The Bedwetter: Stories of Courage, Redemption, and Pee" for salivating fans.
Comprised of poignant essays and ribald tales, the book has been garnering its author her fair share of ink (most notably Will Leitch's recent profile in New York magazine), and has her on a whirlwind book tour with stops in Boston, Washington, D.C., Austin, San Francisco and current hometown, L.A.
Despite the fact that she's handling her new writing career with aplomb, the jokester assured us she's not eager to switch careers.
"Writing the book was definitely harder. With my standup bit, I can check it, see how it works right away. I've been a standup for so long I'm kind of used to boiling everything down to the nut," she said, before adding with a laugh: "I mean this is my first book and hopefully my last. But I wouldn't have passed it in if I didn't like it, and I passed it in eight months later than its due date."
With book-signing number one successfully in the bag, it was off to dinner with her entourage at Public, which she'd heard was great.
And after that? Was there a bar in the cards for the former New Yorker, who'd earned her comedic chops in downtown clubs during the 90s? Umm, no.
"I don't drink. I don't like bars, I don't like drunk people. They talk too close, and spit. I like a little puff and some 'Law & Order,'" the cute-as-buttons brunette appropriately giggled.