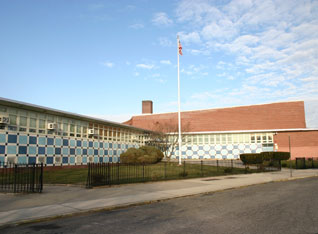 If the idea of training for a 26-mile marathon seems grueling, consider this: there is a group of people running around a single block in Queens in a 52-day race, each person packing in at least 60 miles a day.
It's happening in Jamaica, where followers of Sri Chinmoy, a deceased Indian spritual leader, are doing continuous laps around the Thomas A. Edison Career and Technical Education High School, day in and day out, through heat and humidity and rain.
The reward? Self-transendence -- "Going beyond personal limits and reaching new levels of inner and outer perfection," according to the Sri Chinmoy website.
The 3,100-mile race is the longest footrace in the world, the site claims, and comprises 5,649 total laps.
Eleven runners -- many from Eastern Europe -- started the race on June 12. In a report on the race last year, the Wall Street Journal said 25 runners have completed the race since it began in 1997, some more than once.
Each runner plods along from 6 a.m. to midnight. When all is said and done, they'll have gone through more than 12 pairs of sneakers over the course of the competition, the Journal reported.
The Self-Transendence 3100 Mile Race website features a blog with updates on the race, written by both runners and spectators. One local man, Mark Dorian -- a "friend and supporter," according to the site -- wrote recently that a lounge singer from Queens showed up to sing "Happy Birthday" to one of the runners, Purna-Samarpan (Olaf) Querhammer, complete with balloons, streamers, and cake.
"Wildest of all," Dorian adds, "both a donkey and wolf were seen chasing Dr. Querhammer around the loop under the full moon. The little terrier Roxy who belongs to well-known NYC pastry chef and 3100 race helper Sushovita Taylor was grring and chomping at the bit to chase after the wolf."
The fastest man in the history of the race is Wolfgang Schwerk, a German furniture maker and opera singer who finished the race in 41 days, 8 hours, 16 minutes and 29 seconds -- that's an average of 75.1 miles per day.
Chinmoy, according to the Journal, grew up in India, where he studied at an ashram, and eventually settled in Queens, where a tight-knit community of his students grew over the years.
H/T Observer: "People in Queens Are Running Around a Single Block for 3,100 Miles"