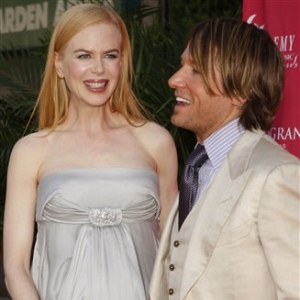 Your Daily Dispatch of Celebrity Shenanigans

Nicole & Keith Are In Baby Bliss: New parents Nicole Kidman & Keith Urban are in the midst of pure newborn baby joy after the birth of Sunday Rose Kidman Urban. "We feel immensely blessed and grateful to be given this beautiful baby girl," the couple told People in a statement. "She's an absolute delight." We can't wait to see the photos!

Another Hanson Addition: Nicole & Keith aren't the only ones welcoming new additions to the family. Isaac Hanson, of bro pop trio Hanson (remember "MMMbop"?), and wife Nikki added a new another member to their family on July 1, People reports. Baby James Monroe weighed in at 8 lbs., 11 oz, and will go by his middle name — MMMbaby!

"Pushing Daisies" Goes To The Fair: The "Real Housewives of Orange County" might want to consider a light dinner, if they plan on attending the "Pushing Daisies" Pie Hole pie eating contest at the Orange County Fair, which begins on July 11, The Futon Critic reports. Ten competitors will dig into pies while wearing "Pushing Daisies" Pie Hole-themed bibs as they compete for a "special prize" tied in to the ABC show, which returns to air this fall.

"Iron Man" Team Together Again: After reported haggling with the studio, director Jon Favreau has reached an agreement with Marvel Studios to direct another installment of the summer blockbuster franchise, Nikki Finke's Deadline Hollywood Daily reports. Expect more wisecracking superhero fun from Robert Downey Jr., who will be back in the iron suit for the sequel, in 2010.
Copyright NBCAH - Access Hollywood