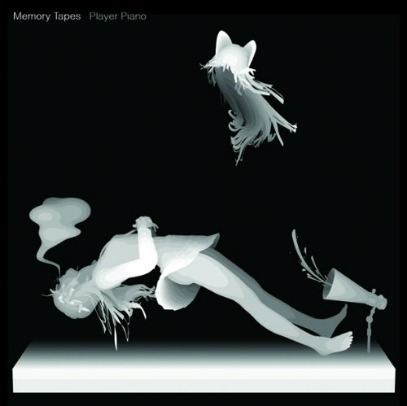 There's a particularly stunning sequence about three minutes into "Bicycle," off Dayve Hawk's debut as Memory Tapes, titled Seek Magic.
"No one would know where we've gone," Hawk promises, a lyric that suggests tantalizing possibility. On cue, the Chicago house beat and looping bassline abruptly give way to a short phrase of pitched percussion, then the descending melody of a fluttery synth.
It's a musical cliffhanger, a deft piece of composition that owes more to dramatic narrative than to pop songcraft, and what follows is two minutes of some pretty transcendent, life-affirming resolution.
It was these sorts of moments — the sudden arrival of huge, doubled bass drums that roused languorous opener "Swimming Field" into its booming climax, or the squelchy analog synths that hit the "reset" button on "Stop Talking" — that set 2009's Seek Magic apart from the rest of that summer's wistful, hazy bedroom pop.
That album showcased Hawk's two most potent talents: a keen ear for texture and sequencing, and a persistent melancholy that, in retrospect, gives life's minutiae their own unique (and, occasionally, painful) pathos.
"I'm nostalgic for five minutes ago," Hawk has said. That kind of nostalgia lends itself to unusually affecting art.
On its surface, Player Piano, Hawk's second Memory Tapes album, diverges from his prior effort in some important respects: it's composed of mostly straightforward songs, and puts greater emphasis on Hawk's voice.
The nostalgia underneath has changed, too, in ways that mirror the apparent sonic differences. Hawk has said most of Player Piano is about the disintegration of a personal relationship, something that induces more tangible and specific feelings — ones that often require more explication and depend more on context — than the ephemeral sadness that characterized Seek Magic.
There's bitterness here — he sings, "You were always like a child/This was just a fantasy" on "Offers" — plus heartbroken resignation: "I don't wanna remember/Though you hold it up so high," from the gorgeous lament "Fell Thru Ice." Where Seek Magic sought to evoke, its successor instead emotes.
At Mercury Lounge last Friday, Memory Tapes played a Player Piano­-heavy set, and it's clear that these tracks work well in that setting: they're more engaging than much of Seek Magic, and rely less on the found sounds and variations of synth parameters that never quite translate to a live performance.
But it's hard to ignore the sublime talent for construction that Hawk possesses when he steps beyond plain-old guitar pop: the build of horns and burbly synths on "Fell Thru Ice 2," given an aggressive equalizer treatment to mimic the submergence described in the title, or the martial, double-time groove that develops in the second half of "Humming."
These are the album's "Bicycle" moments, and they're fewer and farther between than one might hope. Player Piano is a more concise and focused listen, frequently made beautiful by Hawk's attention to detail, but it often feels constrained by its influences — in Hawk's words, "keyboard-based psychedelic girl group songs" — in a way Seek Magic didn't.