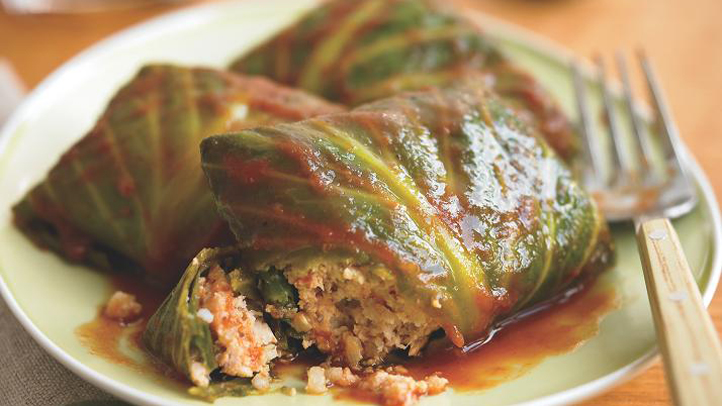 Jen Eisenbarth of Season 3 of NBC's "The Biggest Loser" says, "This is the one cabbage recipe that even non-cabbage-loving people LOVE! Like most moms, I'm always game for a two-for-one deal, so I take any cabbage pieces that are too small [for the cabbage rolls] or are torn, and I cut them, then throw them back into the original pot of water with any and every veggie I have in the fridge. I add a package of fresh chicken breasts and make it into soup. Once the chicken is boiled, I remove the breasts, cut them up, and return them back to the soup. In the time it takes for the cabbage rolls to bake, I have a fresh pot of soup, either for the fridge or freezer!"
Ingredients
Olive oil spray (propellant free)
1 head cabbage
1 cup all-natural canned tomato sauce
1 cup all-natural canned no-salt-added tomato sauce
1 pound extra-lean ground turkey (I used Jennie-O)
1 small onion (about 1 cup), minced
3/4 cup cooked parboiled brown rice
1/4 teaspoon ground black pepper
1/4 cup white vinegar
1/4 cup coconut sugar
Directions
Preheat the oven to 350°F. Lightly mist a glass or ceramic 13" x 9" baking dish with spray.

Place a large pot (with a tight-fitting lid) of water over high heat. Trim the stem-end of the cabbage head to loosen the core a bit so the leaves will come off the head easier when tender.

When the water is boiling, place the whole cabbage head in the pot, cover, and turn the heat to low. Cook for 8 to 10 minutes, or until the outer leaves are tender. Carefully remove the cabbage from the water and rinse under cold water until it is cool enough to handle. Gently remove the outer leaves, using a knife to slice off the base of the leaves near the core if necessary. (The leaves should remain whole. If they tear, return the cabbage to the boiling water.) Once the leaves are too tough to tear off in one piece, return the cabbage to the water to boil more. Continue removing the cabbage, running it under cold water, and carefully taking outer leaves off, intermittently, until you have 12 whole, large leaves. Drain the leaves well, pat dry, and set aside to cool.

Pour both tomato sauces into a small bowl and mix them well.
In a medium bowl, add the turkey, onion, rice, pepper, and half of the tomato sauce and mix until well combined. Divide into 12 equal portions and shape each into a ball. Place one ball in the center of each cooled cabbage leaf and roll the leaf around it, folding in the sides. Place the cabbage rolls side by side, seam side down, in the prepared baking dish.
Add the vinegar and sugar to the remaining tomato sauce. Stir the mixture until the sugar dissolves. Pour the sauce evenly over the rolls. Cover the dish with foil and bake for 11/2 hours, or until the meat is cooked and the cabbage leaves are translucent and very tender.

Makes 4 servings

Per serving (3 rolls): 279 calories, 31 g protein, 37 g carbohydrates (18 g sugar), 2 g fat, trace saturated fat, 45 mg cholesterol, 5 g fiber, 548 mg sodium
---
Reprinted from: The Biggest Loser Flavors of the World Cookbook by Devin Alexander (c) 2011 by Universal Studios Licensing LLLP. The Biggest Loser (TM ) and NBC Studios, Inc., and Reveille LLC. Permission granted by Rodale, Inc., Emmaus, PA 18098. Available wherever books are sold.