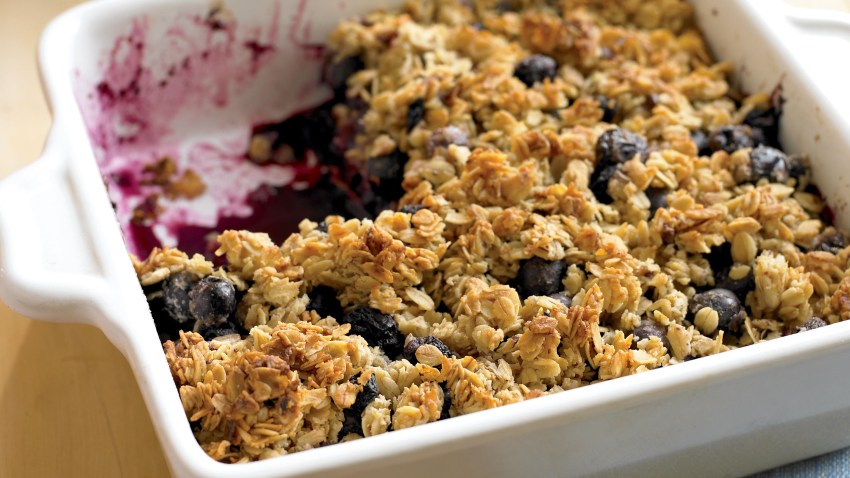 Blueberry crumble is consumed all across the United States, of course, but Southerners (and Mainers!) are true blueberry crumble connoisseurs. I wish I could tell you that you could substitute frozen blueberries for fresh in this recipe, but the truth is, they just don't work. I know frozen berries can be more convenient, but fresh berries are essential to make this crumble as delicious as it can be.
BLUEBERRY CRUMBLE
Makes 6 servings

Ingredients
Canola oil spray (propellant free)
1/4 cup whole grain oat flour
34 ounces (about 8 cups) fresh blueberries
1/4 cup + 2 tablespoons light agave nectar
2 tablespoons freshly squeezed lemon juice
1 cup old-fashioned oats
2 tablespoons very cold unsalted butter, cut into cubes
1 tablespoon 100% fruit blueberry or mixed berry spread

Directions
Preheat the oven to 350°F. Light mist an 8" x 8" glass or ceramic baking dish with spray.

Add the flour to the bowl of a mini food processor fitted with a chopping blade. Process it for 2 minutes.

In a medium mixing bowl, mix the blueberries, agave, lemon juice, and flour until well combined. Transfer the mixture to the prepared baking dish. Set aside.

In a small mixing bowl, combine the oats, butter, and fruit spread using a pastry blender until well combined. Sprinkle the oat mixture evenly over the fruit mixture.

Bake for 45 to 50 minutes, or until the berries are tender and hot throughout (only some juices should remain in the bottom of the pan; it shouldn't be runny), and the topping is golden brown. Transfer the dish to a wire rack and cool for 10 to 15 minutes. Cut into 6 pieces. Serve immediately.

Per serving: 251 calories, 4 g protein, 49 g carbohydrates (32 g sugar), 6 g fat, 2 g saturated fat, 10 mg cholesterol, 6 g fiber, 2 mg sodium

---
Reprinted from: The Biggest Loser Flavors of the World Cookbook by Devin Alexander (c) 2011 by Universal Studios Licensing LLLP. The Biggest Loser (TM ) and NBC Studios, Inc., and Reveille LLC. Permission granted by Rodale, Inc., Emmaus, PA 18098. Available wherever books are sold.