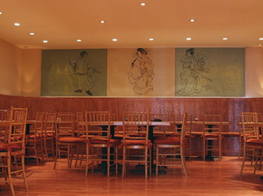 We've been getting a lot of press releases here about "Recession Specials," extended hours, new brunch offerings, and low priced prix fixes in the last month or so. But the following release from West 8th's Street Cho Cho San is by far our favorite/most desperate pitch yet. It begins "The economy! The election!" and goes from there:
"In an effort to lighten the prevailing economic gloom, Cho Cho San began in October to peg the price of its popular Wall Street Roll to the rise and fall of the stock market. The market's drops are the diner's gain, at least in a small way...when the market goes down, the price of the roll (white tuna and avocado wrapped around spicy tuna) does too."
The roll, which strangely enough has caviar and gold leaf flakes, started around $15 and was down to $12 last week.
And jumping on the election bandwagon, they've introduced an Obama Roll, which "rolled out the weekend before the election, contains avocado, black caviar, and a touch of jalapeño wrapped in salmon and mango." NB: the black caviar is a nod to his "high class."
· Eater Maps: Hard Times Call for Recession Specials [~E~]
· Cho Cho San [Official Site]For more stories from Eater, go to eater.com.
Copyright EATER