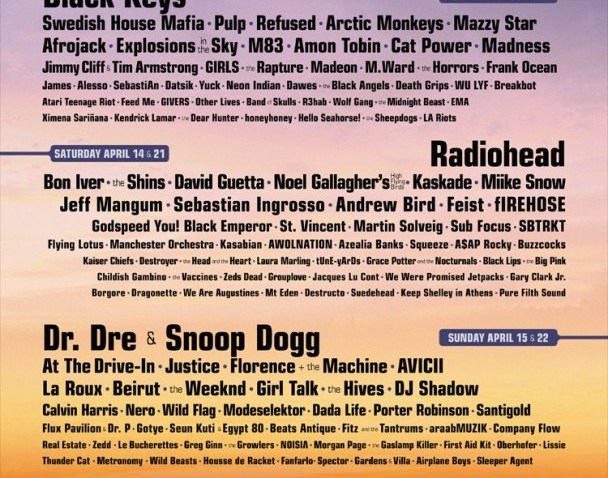 The Coachella Valley Music And Arts Festival has announced the lineup for this year's installment, and everyone is playing.
Joining headliners The Black Keys, Radiohead, Dr. Dre and Snoop Dogg are DJ Shadow, Girl Talk, Noel Gallagher's High Flying Birds, Miike Snow, David Guetta, The Shins, Justice, Florence + the Machine, Arctic Monkeys, Girls, Tim Armstrong with Jimmy Cliff, M83, Cat Power, Flying Lotus, Destroyer, Gary Clark Jr., Laura Marling and a million other people. Just look at that poster! It's crazy!
Coachella is known for getting broken-up and long-dormant acts to appear at the festival, and the organizers really pulled out the stops this year with the one-two punch of At The Drive-In and Refused, two highly influential punk outfits whose interpersonal conflicts made a reunion seem unlikely.
Recently active folk-gazers Mazzy Star, man of mystery Jeff Mangum,wall-of-sound post rock assaulters Godspeed You! Black Emperor, Mike Watt's fIREHOSE and indie-rap noisemakers Company Flow are also on the bill. Plenty of New York types are playing also, including St. Vincent, The Rapture, A$AP Rocky, Santigold and Azealia Banks.
The festival is trying something new in its 13th year. There will be two festival weekends with the exact same lineup each time. You can score tickets here and then head on over to the message board to complain about the one person not playing that you can't believe got snubbed. (To be honest, we're kind of surprised that Danny Brown isn't on this thing.)