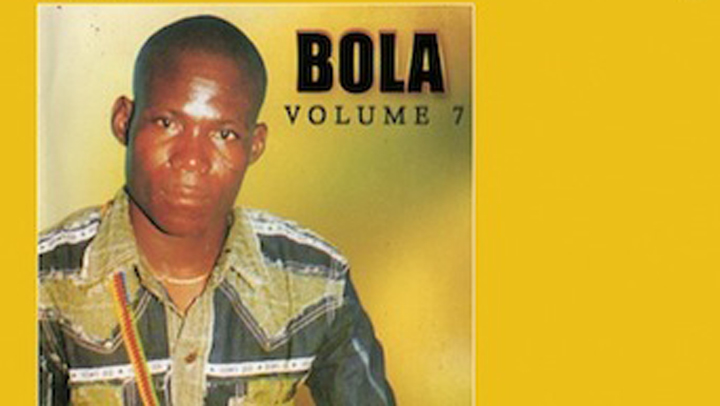 On April 3 Brian Shimkovitz' s label Awesome Tapes From Africa will release its latest discovery Volume 7, by Ghanian singer and kologo player Bola. Shimkovitz got his start posting his favorite tapes of African music that he picked up while studying overseas, and he won enough listeners to turn his blog into an acclaimed label and DJ career.
Shimkovitz has an omnivorous hunger for new music, and is always pushing himself to go deeper in his quest for new sounds; he's even moving away from New York for a while in order to be closer to Africa. He's a a busy guy, but he recently found time to talk to Nonstop Sound for a while about the beginning of his label and his latest passion.
Nonstop Sound: When did you first get an interest in West African culture? What appealed to you about it?
Brian Shimkovitz: "I was studying ethnomusicology and I came into contact with some cassettes from Ghana. It blew my mind that there was all this music happening, these musical subcultures, in every country of the world and it just opened my eyes to what's out there. I fell in love with Fela, King Sunny Ade, and Alhaji K. Frimpong, so when I first visited Ghana on a study abroad trip I started accumulating lots of tapes. At first I was into pop music that drew heavily from Western influences but I soon found way more interesting and distinctive things in West Africa."
NS: Your blog started when you started posting mp3s of tapes of local African music you picked up on a trip. Did you go to Africa specifically to check out music, or was it more of an "as long as I'm here" sort of thing.
BS: "I went to Ghana first in 2002 for a semester to research the music industry and went back in 2005 with a Fulbright grant to look at the burgeoning hip-hop movement. The entire time I was obsessively searching for music of all kinds -- traditional, pop, rap, reggae, etc -- and I sent back many boxes. I have always been super interested in music and my work in ethnomusicology helped take it to another level I guess."
NS: What made you decide to post the tapes and start the blog? And at what point did you realize people were listening?
BS: "I was siting in my apartment in Williamsburg talking to my roommate about all the bizarre tapes under my bed. I literally just blurted out, 'I am going to start a blog called Awesome Tapes From Africa.' I soon added a web statistics widget to my blog and I noticed where the traffic was coming from. An early source of traffic was the Gorilla vs Bear blog and a handful of random blog articles about what I was doing. I was very much encouraged when I saw people from techno, metal, indie rock and jazz web sites were all visiting the site."
NS: The blog led to a series of nightclub gigs, right? What were these like at first? Were you getting people who wanted to appreciate the music in an analytical, sociological fashion? Or people who wanted to dance?
BS: "I got invited to do a panel discussion on global music and technology in Berlin and they asked if I could DJ as well. I had never DJ'd before and had no interest in it in particular but my friend DJ /Rupture who was also going to the event told me to just go for it. It made sense to me to DJ the cassettes themselves so I started off using the music and the audience reaction as a guide. After several more gigs in bars and clubs in NYC and a few more trips to Europe I quit my job and began to DJ for a living. Definitely from the start it was about getting people to dance. I wanted to bring the blog alive and get the people who were digging the music to meet in real life and feel the music in a more similar context to what I had observed in West Africa. At the same time, there are many gigs where people are spending more time seriously listening and I get a lot of thoughtful questions and suggestions from people all over."
NS: As a fan of this music, do you feel protective of it? When you see bands like Vampire Weekend or Dirty Projectors use elements of it, are you happy that they're spreading the ideas or concerned about cultural appropriation?
BS: "As an independent music fan myself I have been excited to see how music in America is progressing with the help of the broader horizons the internet affords. It makes perfect sense to me that bands would look further afield for influences and I don't feel the majority of them are straight ripping off African sounds and approaches. The thing that actually makes me way more uncomfortable is how often it feels like us Westerners judge African artists who incorporate our music into theirs. It's a double-standard to say someone's music "isn't African enough." For example, I think it's great there are musicians in South Africa who are influenced by Radiohead or rappers in Nigeria who are obsessed with 50 Cent -- and that these artists make music that sounds a bit like these non-African influences. Music is always changing and it can and should always transmit ideas across borders."
NS: What's it been like to go from a blog to an actual record label? What's been the biggest learning curve you've had to overcome?
BS: "After spending more than six years working in music publicity I felt like expanding the blog into a label was both organic and totally doable. It has not been simple -- I knew very little about production, design and retail marketing before I started -- but the crucial part about releasing records is the music itself I think. It has been mostly fun and incredibly rewarding. By far the hardest part has been locating and making contracts with the artists, as I am absolutely dedicated to doing these releases in a transparent and fair way. The main goal was to find a way for some of the artists to build careers beyond their hometowns and I feel like Awesome Tapes From Africa is on the road to helping make that happen."
NS: I know that people constantly send you tapes of artists. Is there a specific quality you look for when posting a tape? What makes something the right fit for you?
BS: "When I am considering what tapes to post next I often think about presenting a basic variety -- folk vs. pop, male vs. female, instrumental vs. vocal music. But ultimately the recording needs to be something that surprises me, something that I know sounds crazy, in a good way, and/or is something very important in the region of origin. There are so many artists who are massive where they come from, and I would like to help listeners locate the key touchstones of a given movement, scene or locale. The blog and label have a long way to go in covering even 1% of what's out there."
NS: You're releasing Bola's Volume 7 in April. How did you discover him, and what made him Volume 7 something you had to put out?
BS: "When I was in Ghana the first time I came across some musicians in the neighborhood in which I was living who came from the north and played traditional songs from that region. I spent a lot of time hanging with these guys and listening to them sing and dance and play the kologo -- a two stringed lute. A friend recently went to Ghana and brought back some tapes for me including two by Bola. He plays the same style of music in the same language but he does so with a modern twist--drum machines, heavy bass and incredibly out-there yet catchy synthesizer melodies. Like the friends I had made several years ago, Bola plays the kologo and when I heard Volume 7 and did some more research I knew this would be an excellent second statement from Awesome Tapes the label. It's dance-oriented folk music looking toward the future, with positive messages by an honest and brilliant creative force from a relatively marginalized region of the country."
NS: What do you have planned for the rest of the year?
BS: "This year I am pushing to release two more records and continue to play lots of DJ gigs. I am on my way to Berlin now to live there for the next few years, where I can be closer to Africa and play more shows. However, I will be back in the States in May to play Sasquatch! Music Festival in Washington and several other shows along the way on both coasts."