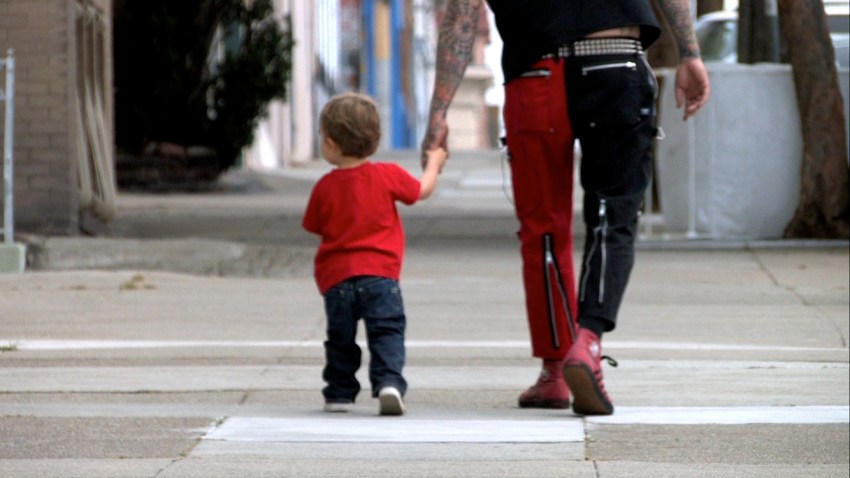 Tonight at Film Forum, a documentary chronicling the sea change of "punk rock dads" is showing at a special screening. The Other F-Word tackles the anomaly that is trying to tell a kid what to do while living by the mantra, "no one tells me what to do!"
Director Andrea Blaugrund says when she was growing up in New York City, punk rockers "were the people you crossed the street to avoid."
So when she learned about Pennywise lead singer Jim Lindberg's book about being a punk rock dad, she was "both repelled and intrigued."
Interesting: that's the same reaction I have to my old Pennywise records.
Lindberg also gave birth to the lyrics of every confused eighth-grader's favorite sing along, "F--k Authority." This is an apparent contradiction to patriarchy, given dads really have to lay down the law to make sure their kids live by said law.
So Blaugrund and some others made a whole movie about this. The Other F-Word involved a bunch of dads who themselves were capable of expressing childish sentiment, namely Blink-182's Mark Hoppus, Art Alexakis of Everclear, Tony Adolescent of The Adolescents (too easy) and Fat Mike from NOFX. A few more politically minded pops hit the screen as well, including members of the bands Rise Against, Rancid, DEVO, and Red Hot Chili Peppers.
In this spirit, we've assembled a few other sons and daughters of the revolution -- or at least the revolution-minded -- who didn't make the film.
Jakob Dylan
Whether he liked it or not, Bob Dylan was the voice of his generation. His son, Jakob, frontman of reuniting '90s alt act The Wallflowers, was not so much his era's mouthpiece. "One Headlight," the band's biggest hit, was a treatise on the ills of greed. But cloaked in so much metaphor, it was often mistaken for a soundtrack to heartbreak. The band's recent greatest hits album was a lot longer than we expected.
Arlo Guthrie
There's more legacy concern to the Guthrie family than to call them totally anti-authoritarian. Arlo's dad, Woody, penned the most-misinterpreted protest song of all time, "This Land Is Your Land." Arlo, at 92 years old, is still bearing the torch of civil disobedience, and a fairly grizzly beard.
Ikhyd Edgar Arular Bronfman
This is the young son of Mathangi Arulpragasam, aka rapper/singer M.I.A. Once known for her outspoken stance on the turmoil in her native Sri Lanki, she more recently took flack for having a pretty mediocre album. Her son's middle name comes from her father's code name during the Sri Lankan civil war, used when he fought with the Tamil Tigers. Pretty cool. He was also in Maya's belly when she performed at the Grammy's -- on the baby's due date.
Kelly Osbourne
Anyone who watched MTV's "The Osbournes" recognized it for what it was: the death knell of mass visual music culture. But back in the day, Kelly's dad Ozzy made waves in part by his on-stage shock value. But the only thing shocking is how she could lose to Donny Osmond on "Dancing With The Stars."
Dweezil and Ahmet Zappa
Frank Zappa's unique tack to censorship, composition and performance helped spur the rock 'n' roll revolution, influencing everyone from The Beatles to John Zorn. His sons Dweezil and Ahmet have carried on the avant-garde spirit, performing their dad's far-out tunes, and tradition of super-sweet rock 'n' roll baby names. Their sister's name is Moon Unit.
Francis Bean Cobain
Perhaps the most contentious offspring in rock 'n' roll -- Francis is the daughter of Kurt Cobain and Courtney Love. Love often uses Francis as the excuse for marketing her late husband's image, a move that many say completely contradicts his independent wiles. What, there's something undignified about this?