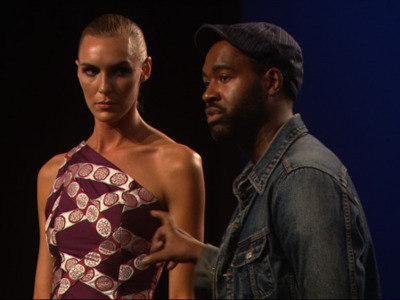 Project Runway premiered its seventh season last night, with Heidi, Tim and the crew back in NYC with a new group of designers - most skittish, some overly self-confident - vying for a shot at a show in the tents at Bryant Park.
Spoiler alert! We're here to chat.
Last night's challenge was the general, get-to-know-you-as-a-designer test, with contestants producing mostly dresses they felt embodied themselves as designers. Needless to say, the results ranged from boring and poorly constructed to conceptualized layered draping to hot, knockout frocks.
Kicking off with a champagne toast on a rooftop overlooking the Empire State and Chrysler buildings, Heidi and Tim then took the contestants to Central Park, which was haphazardly draped with Mood fabric (first product placement of many throughout the night!). After grabbing, then editing, the worker bees headed back to Parsons for 24 hours of catastrophe, triumph and a splash of ridiculous flamboyance here and there (ahem, Anthony).
Tim Gunn arrived to the new season with a pocketful of gems in his fatherly advice, telling the group to "recalibrate their ambitions...[because he was] seriously worried about it." In response to Christiane's trepidation she was playing it too safe (she was), Tim told her to "finish it impeccably and stand up there with confidence." Oh, how we love that man.
After a montage of cutting, sewing and product placements, the show began before Heidi, Michael Kors, Nina Garcia and guest judge Nicole Richie - who's adorable and so, so tiny. We loved Emilio's pretty-and-interesting, vaguely Asian appliqued cocktail dress and Seth's rockabilly sexpot mini dress with quirky suspenders and a jumbo exposed zipper. Pamela's Forever 21 hot pink kimono sleeve dress, we thought, was horrendous, but she fell smack in the middle, safely advancing to episode #2.
Along with Seth and Emilio (the winner), wonderfully weird Ping (whom Anthony hilariously called Ping Pong at one point) made the top three with her pile of draped silk that floated beautifully down the runway. The bottom two, Jesus' garish, brown mock croc column evening gown and Christiane's poorly constructed clearance-rack dress got bounced around by the judges (although, Nicole liked Jesus' garment, while Michael Kors thought it glamorous only in the context of a Las Vegas lounge in 1972) before Christiane was sent home.
One thing that does have us worried lies not in the workroom, but rather, on MTV -- is Jersey Shore almost over? Because the time conflict is quite troublesome...