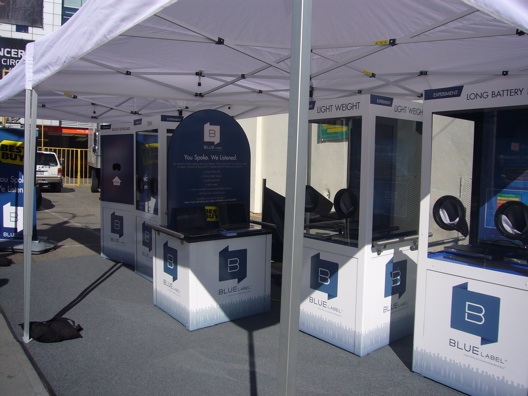 Best Buy is trying to give its customers the laptops they want. At least that's the idea behind the gadget chain's new Blue Label line of computers. The company is working with Toshiba and HP to create laptops based on feedback from consumers, who crave skinnier and lighter models with longer battery life. To promote the Blue Label offerings, which rolled out to stores on Sunday, the folks at Best Buy corporate set up a strange interactive pop-up on Broadway and Lafayette. There, interested parties can look at, and play with, the laptops. We assume they secured the computers behind glass fitted with heavy gloves to deter theft, not because they were radioactive or anything.
· Blue Label [Best Buy]
· "Blue Label Laptops" at Best Buy [Notebooks.com]For more stories from Racked, go to racked.com.
Copyright RACKN